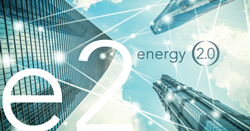 Energy 2.0 in March 2020 is the unconventional unconference that brings together global energy professionals to discuss the tsunami of change shifting the industry.
HOUSTON (PRWEB) March 02, 2020
Pink Petro™, the leading global community working to end the gender gap in energy, is marking the start of its fifth anniversary with Energy 2.0, its global energy forum on March 10, 2020.
Katie Mehnert, founder and chief executive officer of Pink Petro™ said, "This unconventional "unconference" brings together global energy professionals to discuss the tsunami of change shifting the industry."
Formerly known as HERWorld, the forum was first held in 2016 and has since grown to include diverse speakers inside and outside of energy, and through the power of digital, is broadcast to watch sites globally.
Energy 2.0 will take center stage in Houston at the Westin Houston in Memorial City and in Denver at the CU Denver School of Business, University of Colorado Denver. Energy 2.0 will also be streamed online courtesy of Hess Corporation. This year's event will encompass "Equality, Environment, and the New Economy."
Gibson, Dunn & Crutcher LLP is a Fifth Anniversary Sponsor. Hillary H. Holmes, a partner in Gibson Dunn's Houston office and co-chair of the firm's capital markets practice group said, "Powerful things happen when women come together with a common vision. They turn that vision into reality. Gibson Dunn holds diversity, equality and innovative thinking as core values. We are proud to support Pink Petro and Energy 2.0 – a force that moves us closer to making our shared vision of equality in the global energy industry a reality."
MORE THAN A FORUM
Energy 2.0 is a global experience where participants discuss the energy transition, big data, artificial intelligence, blockchain, geopolitics, and the workforce in a different and inclusive way.
The initial speaker lineup in 2020 includes feminist plumber, tradeswomen activist, and keynote Judaline Cassidy. A native of Trinidad and Tobago, Judaline was amongst the first three women selected to learn plumbing at the John Donaldson Technical Institute of Trinidad. The lineup also includes Gen Z, Benji Backer, entrepreneur and political activist, named one of RedAlert's top "30 Under 30" conservatives and GreenBiz's 30 Under 30. Stephanie Cox will deliver the industry keynote. Cox is chief executive officer of Wood Americas business and is a seasoned energy industry leader with more than 28 years in oilfield leadership roles and diverse global business. Author and journalist Robert Bryce will deliver the keynote in Denver and discuss his sixth book "A Question of Power: Electricity and the Wealth of Nations." Other speakers for Energy 2.0 include thought leaders from a wide range of companies and startups including Total, Cemity Factory, NOV, Sunnova Energy, TPI Composites, Renewable Energy Systems, Schneider Electric Energy & Sustainability Services, Shell and Saudi Aramco.
DIFFERENCE IS DRIVING THE ENERGY TRANSITION
"Since its inception, our company has been built on the firm belief that energy is changing," Mehnert said. "The digital component of our offerings from membership to events to our careers service with a deliberate focus on inclusion is what sets us apart. We're about celebrating how different and unconventional ways drive our world forward."
"We're in an energy transition and transformation goes beyond gender, generations, nationalities, religion, sexual preference, and energy forms. It goes beyond industries and political affiliations. It gets back to us as humans in our rawest form. We need everyone at this table," says Mehnert on the marking of Pink Petro's fifth year.
The other leading Energy 2.0 sponsors in addition to Gibson Dunn also include Baker Hughes; BHP; CU Denver Business School, Global Energy Management Program, Hess Corporation; and Wood Mackenzie.
ABOUT PINK PETRO™
Pink Petro is a social enterprise aimed at creating a new future and ending the diversity gap in energy. Its mission is to elevate and connect individuals, companies, and industries to create an inclusive workforce and supply chain. The community has a presence in 120 countries in nearly 500 companies across energy in oil and natural gas, LNG, renewables, and nuclear. Its sister company is Experience Energy and is the destination careers platform for diverse talent in energy.