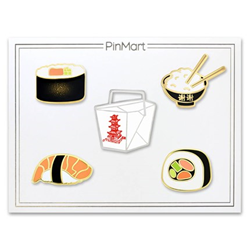 The office is buzzing about our new Pin Sets
(PRWEB) May 11, 2017
PinMart is proudly debuting their newest product line; Pin Sets! These 13 sets include anywhere from three to five pins and come attached to a white, heavy stock card (Card Size: 3"H x 4"W) with shiny silver metallic accents for a cool look. Each Pin Set has what one would consider a theme. For instance, the Asian Cuisine 5-Pin Set. This particular Pin Set includes a Sushi Roll Pin, Sushi Pin, Salmon Sushimi Pin, Chinese Takeout Pin, and the Chopsticks Rice Bowl Pin.
"The office is buzzing about our new Pin Sets" says PinMart's Social Media Manager, Rachel Geyer. She went on to say that the newest addition of these thirteen Pin Sets to their prospering stock pin collection was a long time coming. Adding, "The company invested a great deal of time and effort into making each specific Pin Set."
Essentially there is a pin set for everyone. If you're a foodie, you will love their Sweet Tooth 5-Pin Set, for a Makeup Guru you have to check out their Glam 4-Pin Set, and if you're a gamer their Retro-Gamer 5-Pin Set is the perfect way to level-up your style game.
Each Pin Set is packaged for optimal durability to withstand shipping. Pin Sets are in a sealed poly bag, then nicely placed in an organza drawstring bag, and finally put in a bubble pack bag for extra protection.
This is only the beginning for PinMart's newest product line of Pin Sets. You can expect to see new additional Pin Sets in the upcoming months, including Military and Awareness Sets.
About PinMart:
PinMart, Inc. is a privately held company located in Elk Grove Village Illinois, a suburb of Chicago, specializing in the design and manufacturing of stock and custom emblems, custom lapel pins, and recognition and awareness products. PinMart sells products via its online store and offers custom design and manufacturing. PinMart has taken advantage of its well positioned internet presence and now boasts a client list that includes over 300 of the Fortune 500 companies.
For more information about PinMart, Inc., call 1-877-PINMART or go to http://www.pinmart.com.