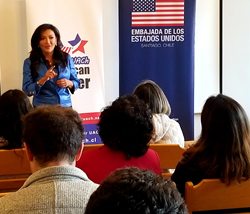 I am so proud to be a part of the country's growing legacy, as Pinnacle Group is expanding its presence in this vibrant region as part of our ongoing global expansion!
SANTIAGO, Chile (PRWEB) April 16, 2019
Pinnacle Group Chairman and CEO Nina Vaca addressed top Chilean entrepreneurs and thought leaders this week at events in Chile hosted by the U.S. Embassy and local business organization Becarius for Impact. Vaca's presentations, which took place April 11-13, were part of the U.S. Embassy's economic initiative to foster the country's entrepreneurial ecosystem and deepen relationships with former participants of U.S. government funded exchange programs.
Vaca spoke to groups in the city of Valdivia, south of the capital of Santiago, and coastal city of Valparaiso. The leaders in attendance were primarily alumni of U.S. State Department programs, where they acquired knowledge and skills to implement within their Chilean businesses and organizations. This included participants from the White House's Young Leaders of the Americas Initiative (YLAI) Professional Fellows Program, which Vaca helped launch in 2016.
"We were grateful to have Nina Vaca visit Chile to share her experience as a global leader in business with local decision makers and emerging leaders as part of our mission to strengthen ties between the U.S. and Chile in the areas of leadership, women's empowerment, and philanthropy," said Katherine Hall, Cultural Attaché.
Vaca added: "Coming from a long line of Ecuadorian entrepreneurs, I recognize the impact that entrepreneurship has on advancing individuals, families, and communities. These business leaders are using the power of entrepreneurism to contribute to a massive economic engine that's propelling Chile into the future."
She continued: "I am so proud to be a part of the country's growing legacy, as Pinnacle Group is expanding its presence in this vibrant region as part of our ongoing global expansion!"
Using her platform to empower entrepreneurs in Chile is just the latest in Vaca's long career of advocacy and civic leadership on the international stage. She began her work in this arena 15 years ago with the British-American Project and the German Marshall fellow program. In 2014, she was appointed by the White House as a Presidential Ambassador for Global Entrepreneurship. In this role, she has been able to share her incredible personal and entrepreneurial story with government officials, business leaders, and other dignitaries in eight countries across five continents.
Last year, Vaca graduated as a Henry Crown Fellow at the Aspen Institute upon completion of her leadership project: Villa de la Alegría (Village of Happiness), a development of 40 homes for hundreds of victims left homeless after a catastrophic earthquake struck her home country of Ecuador in 2016. Through the Nina Vaca Foundation, she collected hundreds of donations to provide dozens of families with new homes and 1.2 acres of land each, on which they can plant crops and create a sustainable economic platform to rebuild their lives through farming and entrepreneurship.
Most recently, Vaca was elected as a lifetime member of the Council on Foreign Relations (CFR), a prestigious group of the nation's most respected leaders in government, business, journalism, education and beyond, which provides nonpartisan foreign policy analysis.
About the U.S. Embassy in Chile
U.S. Embassy Santiago, proudly representing the American people, works to strengthen our bilateral ties with Chile, address global challenges, advance human rights, and further the security and prosperity of the United States. The Americans and Chileans who constitute our team represent many U.S. government agencies and come from diverse backgrounds, bringing a wealth of experience and skill to this Embassy. Using the resources entrusted to us, we lead efforts that bring the U.S. and Chile together in a productive and mutually beneficial partnership. For more information, visit cl.usembassy.gov.
About Nina Vaca
Nina Vaca is Chairman and CEO of Dallas-based Pinnacle Group, a leading IT workforce solutions firm named the fastest-growing woman-owned company in the country by the Women Presidents' Organization. Vaca is currently overseeing the company's global expansion and the launch of its Pinnacle Talent Communities platform, which utilizes machine learning (ML) and proprietary algorithms. She is one of the few Latinas in the nation serving on corporate boards. In addition to her business leadership, Vaca is a civic leader and philanthropist, working relentlessly to expand opportunities for minorities and women in business and for women and girls in STEM fields. Recently, she was elected as a lifetime member of the Council on Foreign Relations (CFR), an independent, nonpartisan membership organization that provides foreign policy analysis to leaders in the U.S. and around the world. For information and resources, visit NinaVaca.com.