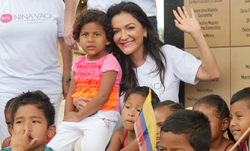 "I can't tell you how rewarding it was for me, as an American, to return to my home country to help Ecuadorian families find stability and prosperity through entrepreneurship," Vaca said.
DALLAS (PRWEB) November 15, 2018
Pinnacle Group Chairman and CEO Nina Vaca officially welcomed 40 families into the Villa de la Alegría (Village of Happiness), a newly created development of 40 homes with adjoining farmland for hundreds of victims left homeless after a catastrophic earthquake struck Ecuador in 2016.
The 7.8 magnitude earthquake devastated significant portions of the Ecuadorian coast, killing nearly 650 and leaving thousands homeless. Vaca made her first recovery mission to Ecuador in 2016 when she raised $100,000 to help entrepreneurs rebuild their businesses through Re-emprende, a public partnership between private corporations in Ecuador. Today, Vaca is the largest investor in the organization outside of Ecuador.
Throughout her career, Vaca has been dedicated to empowering entrepreneurs. As a White House appointed Presidential Ambassador for Global Entrepreneurship, President Obama selected her as part of the inaugural PAGE delegation, along with prominent fellow classmates, including Daymond John, Tory Burch, and Steve Case. In that capacity, Vaca has inspired the next generation of entrepreneurs across five continents.
Fittingly, Vaca has continued to focus her recovery efforts on strengthening the entrepreneurial ecosystem in Ecuador, most recently doing so by using homes and farming as a vehicle for opportunity. Last year, she created the Nina Vaca Foundation and launched the Tri for Homes campaign in which athletes from around the world joined her to participate in the Ironman 70.3 mile race in Manta, Ecuador as a way to attract sponsors to construct Villa de la Alegría. The Foundation partnered with Cinemark and Club Rotario de Quito Latitud Cero, leveraging friends, family, and associates, to bring in hundreds of donations.
The 40 families in the village were not only guaranteed homes, but also 1.2 acres of land each on which to plant crops and create a sustainable economic platform from which they could rebuild their lives through farming and entrepreneurship.
"I'm delighted to have finalized this project – we now have a fully operational village and have welcomed 40 families into their new homes," Fabián Sancho, President of Club Rotario de Quito Latitud Cero, said. "We continue to work, with the support of the Nina Vaca Foundation, to provide the village with basic services, which will enable all of these families to lead healthy lives. Together our organizations have been able to create a miracle in this region!"
On International Day of Peace 2018, Vaca returned to the village as the school year began to cut the ribbon with members of the partnership and to personally hand out toiletries, school supplies, clothes, and other necessities to approximately 400 new residents.
"I can't tell you how rewarding it was for me, as an American, to return to my home country to help Ecuadorian families find stability and prosperity through entrepreneurship," Vaca said. "My parents always told me, 'Never forget where you came from.' These words have inspired my lifelong mission of servant leadership and serve as a reminder that we all have the opportunity to leverage our success to help communities around the world."
About the Nina Vaca Foundation
The Nina Vaca Foundation supports community-building in underserved populations locally, nationally, and globally, primarily through education and entrepreneurship, as well as through home-building and infrastructure development. We are particularly committed to creating brighter futures for women and minorities through STEM education and careers and we are passionate about helping inspire and grow the next generation of entrepreneurs globally. We believe that when you build and support local businesses, you build and support entire communities. For more information, visit ninavaca.com.
About Club Rotario de Quito Latitud Cero
Rotary is a global network of 1.2 million neighbors, friends, leaders, and problem-solvers who see a world where people unite and take action to create lasting change across the globe. Club Rotario de Quito Latitud Cero is run and operated by entrepreneurs in Ecuador. For more than 110 years, Rotary has provided services, promoted integrity, and advanced world understanding, goodwill, and peace through fellowship of business, professional, and community leaders.