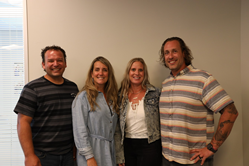 "Our company culture is unlike any other because our franchisees are supportive of one another, share knowledge, and celebrate successes."~ Paul Porter, founder
ROSEVILLE, Calif. (PRWEB) November 22, 2021
Pinnacle Pools and Spas, the world's largest swimming pool builder, announces a new franchise in Omaha, Nebraska. Pinnacle is an award-winning pool-building franchisor with locations across the nation. Pinnacle excels in innovative design that turns landscapes into a resort-like experience right in your backyard, whether you choose concrete or fiberglass.
CEO Paul Porter is excited to announce the owners of the new Pinnacle location in Omaha, Nebraska: Brad & Shannon Leather and Ross & Ashley Haley. Pinnacle processes many applications for franchises, but they only select those who are a perfect match for Pinnacle's culture of success.
"Our company culture is unlike any other because our franchisees are supportive of one another, share knowledge, and celebrate successes."
~ Paul Porter, founder
With this new location, Pinnacle continues its expansion across the US, bringing people's dreams to life and creating a backyard experience that is second to none. And it all begins with an in-home consultation where Pinnacle works with each client to realize their backyard vision without going over budget.
Pinnacle is offering franchise opportunities to like-minded entrepreneurs with high standards for quality and value. If you're interested in owning a Pinnacle franchise, please visit premierpoolsfranchise.com or call (844) 366-2102.
Omaha, NE | Owners: Brad & Shannon Leather and Ross & Ashley Haley
Brad and Shannon owned a concrete company and a landscape/hardscape company, and various other businesses. Ashley and Ross used to own a digital marketing firm that specialized in highly targeted multichannel campaigns and a custom woodworking and furniture business. With their experience combined with Pinnacle's nationwide infrastructure and support, they have a leg up on the other pool companies in their area.
The Leathers and Haleys were drawn to Pinnacle's core values—putting the customer first and being extremely family-focused. Family is vital to them, and they each desire to create a legacy they can pass on to their children. When asked what they were most looking forward to about owning a Pinnacle franchise, they said, "Being able to build people's dreams so they can enjoy their backyard as much as our families have enjoyed ours."
Omaha is growing incredibly fast, with new subdivisions popping up left and right. They expect fiberglass to be huge in this market and are prepared to meet the demand for every backyard. As Nebraska natives, they're excited to serve their community and are committed to doing right by their customers.
Ashley and Ross Haley have been married for five years, but they've known each other since kindergarten. They have two wild animals for sons, Nixon, who's almost four years old, and their little rock star, Van, a year and a half. Ashley and Ross are avid sports fans who were both multi-sport college athletes. Brad and Shannon Leather have been married for 17 years and have two beautiful children—Ryleigh, 14, and Colton, 16. They also have two dogs, a black lab named Memphis and a German shepherd named Griffin.
About Pinnacle Pools & Spas
Pinnacle has a reputation as an award-winning company that delivers first-class results within the customer's budget. They build and service swimming pools and spas for homeowners across the country.