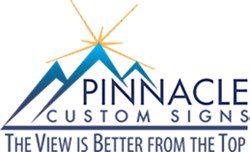 Clients featured on the show could share direct results of utilizing various forms of signage from outdoor channel letters to customized vehicle wraps to convey their marketing messages and attract new clients
Buford, GA (PRWEB) May 22, 2017
Pinnacle Custom Signs was recently featured in the filming of the upcoming episode of Behind the Scenes with James Earl Jones. The show — focusing on the economic impact of signage in the business industry — highlights the real work examples from the team of Pinnacle Custom Signs. Through direct interviews with clients, Behind the Scenes captures the return on investment for the companies that use various signage applications in their day to day business.
Owner Theresa Conklin states that the clients selected for the show were able to share the "direct results of utilizing various forms of signage from outdoor channel letters to customized vehicle wraps to convey their marketing messages and attract new clients".
Beth Bannon, regional production manager for Behind the Scenes shares that "the educational content that our participants provide for Behind the Scenes is critical to the continued success of the program."
To provide an educational experience for the upcoming show the experience of actual clients and the production process will be featured. National client C2 Education and local customer Stuart Heating & Air will share their experience along with a behind the scenes look at the process behind the design and creation of their company signage.
The Behind the Scenes airing of the show featuring Pinnacle Custom Signs will vary among network and affiliates across the United States for the Public Broadcast Stations (PBS) starting May 29, 2017. Please refer to the local market PBS for exact date and times.
Pinnacle Custom Signs is a full-service signage company that produces in house design and installation of various signage including outdoor signage, indoor signage, vehicle and boat graphics, monument signs, temporary signage, window graphics, routed signage, and sign repair services in addition to installation across the United States.