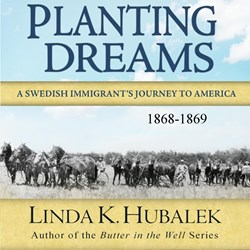 Butterfield Books Inc. has released four audio books about pioneer Swedish immigrants, narrated by Ann M. Richardson.
Lindsborg, Kansas (PRWEB) December 30, 2013
Butterfield Books Inc. has released four audio books about pioneer Swedish immigrants, narrated by Ann M. Richardson. These books, Planting Dreams, Cultivating Hope, and Harvesting Faith are from the Planting Dreams series, and Prairie Bloomin' is from the Butter in the Well book series. These audio books were written by Linda K. Hubalek and are available at Amazon, Audible, and iTunes. These pioneer fiction books are based on the author's ancestors journey from Sweden and their homesteading years on the Kansas prairie.
"Ms. Richardson has done an excellent job of narrating my books. It's very rewarding to hear my ancestors come alive through these audio books. It's like I'm getting to meet my great great grandparents in person. My ancestors homesteaded in Kansas in 1869, and now they are telling me their life story through Ann's words," said author Linda Hubalek.
Ann Marie (Arvdal) Richardson, discovered her love of narrating in 2008, while volunteering for Learning Ally (formerly known as Recording For the Blind and Dyslexic). Since then she has been narrating professionally, and all of her books are available online.
Growing up on a farm in Nebraska fostered in her a deep love of the prairie and the people who farm there. Her father immigrated to Nebraska from Sweden in the 1960's; she visits her many relatives in Sweden every few years, and is conversant in Swedish.
Ann Marie is an active member of the VASA Order of America, District 17, Lindbergh Lodge #494. Her history of growing up in the rural Midwest with Swedish customs and work ethics, gives her a unique connection with Hubalek's writing.
For more information about Linda K. Hubalek's books about pioneer women, please look at ButterfieldBooks.com website. These books (also in ebook and audio) are available now in stores, or online at Amazon.com, KoboBooks.com and BN.com.
About Butterfield Books Inc.:
Founded in 1994, Butterfield Books Inc. publishes and promotes books about Kansas and its pioneer history. The company is located in Lindsborg, Kansas, known as "Little Sweden USA."
About Linda K. Hubalek:
Author Linda K. Hubalek writes books about the pioneer women who made Kansas their home. Her books are published by Butterfield Books Inc. and they include the Trail of Thread, the Butter in the Well, and the Planting Dreams series.