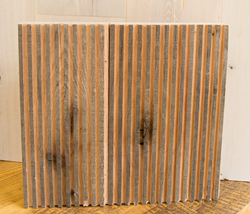 When designers think about reclaimed wood we want them to think beyond rustic barn siding to color, a wealth of texture, and thoughtful sophistication
Farmington, NY (PRWEB) May 09, 2017
Pioneer Millworks, a leader in the reclaimed wood industry, will share the latest trend drivers at the 29th annual International Contemporary Furniture Fair (ICFF) at the Jacob Javits Center in NYC this May. The newest offerings include dramatic textures and colors applied to a vast array of reclaimed wood species.
"When designers think about reclaimed wood we want them to think beyond rustic barn siding to color, a wealth of texture, and thoughtful sophistication," said Jered Slusser, reclaimed wood expert at Pioneer Millworks. "Our reclaimed wood is prized for its history, character, tight grain patterns, and deep patina. We're further celebrating those attributes with custom textures and color."
With hundreds of species, grades, and finish combinations, Pioneer Millworks continually searches for exceptional surfaces and variety of reclaimed wood to add to their offerings. The newest textures are paving the way for reclaimed wood as more than just barn wood.
The team will share custom Raked and Saw Kissed textures, both of which can be applied to a majority of their reclaimed wood products. Additionally, colors continue to rule with bold color finishes taking the stage alongside more traditional grey and white tones. Furthering a recent trend for charred wood, they're combining color with charring in their Shou Sugi Ban Shallow Char. "The really cool part is these finishes celebrate the signs of previous life inherent in reclaimed wood while bringing new visual and textural experiences," continued Slusser.
ICFF will take place at the Jacob Javits Convent Center in NYC with the Expo running from 10am-5pm on May 21-24. Pioneer Millworks will be located at booth #1247.
North America's premier showcase for contemporary design, ICFF annually lures those in determined pursuit of design's timely truths and latest trends to an encyclopedic exhibition of up-to-the-moment offerings, as well as a series of fascinating, fun, educational programs, and a packed schedule of exhibits and features.
Pioneer Millworks is the leader in the reclaimed wood industry. To date, they've rescued nearly 26 million board feet of old wood from rot and landfills, giving it new life as flooring, millwork, cabinetry, and more. All manufactured in a way that's healthy for customers, employees, and the environment. Pioneer Millworks is FSC certified and Green America approved. All of their products are LEED point eligible.