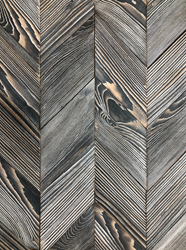 We're excited to connect with folk who join us in the drive for sustainable, ethically sourced, and made in USA products.
FARMINGTON, N.Y. (PRWEB) October 26, 2018
Pioneer Millworks will share their reclaimed and sustainable wood products in Chicago, November 14-16 at the 2018 Greenbuild Expo, the premier sustainable building event for innovative products and services for the built environment. They'll join more than 750 suppliers and top manufacturers of the latest green building equipment, products, services and technology available in today's market.
"We're excited to connect with designers, architects, builders, and homeowners, new and known. Folks who join us in the drive for sustainable, ethically sourced, and made in USA products," explains Jered Slusser, Northeast Sales Market Manager for Pioneer Millworks. "We'll share the latest in our custom wood products including the newest finishes and textures such as Shou Sugi Ban Color Char and Raked."
Reclaimed and sustainably harvested wood, solid and engineered, is crafted by Pioneer Millworks in their New York and Oregon mills. Their products are LEED point eligible, FSC-Certified, and many are part of mindful MATERIALS open-source data platform. The company operates on the Triple Bottom Line of People, Planet, and Profit. "We have a 400-panel solar array, we use our wood scraps to heat our facility in clean-burning boilers, our sawdust is collected for wood pellet use, our engineered products and finishing options are VOC free," shared Slusser. "Plus, we're looking to become an ESOP company in the near future."
Architects, designers, and homeowners are invited to stop by the Pioneer Millworks booth (#737) in the Wood Pavilion to learn more from the company's sales and market specialists. Greenbuild will take place at McCormick Place in Chicago with the Expo running from 10am-6pm on November 14-16.
For nearly 30 years Pioneer Millworks has been developing creative reclaimed and sustainable wood flooring, paneling, siding, furniture, doors, fixtures, and more. To date they've salvaged over 29 million board feet of wood from rot and landfills, giving it new life. Numerous species, grades, textures, and color options for architects, builders, designers, and homeowners; options that are easy for builders to install; options that have a story which homeowners and end-users can connect with; options that are good for the people & the planet. Pioneer Millworks is FSC-certified and Green America approved. All of their products are LEED point eligible.