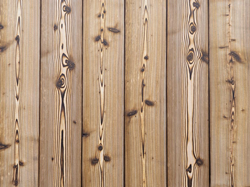 Applied to our sustainably harvested Larch, Shou Sugi Ban Undressed brings unmatched texture and tones
FARMINGTON, N.Y. (PRWEB) January 06, 2020
Pioneer Millworks, a reclaimed and sustainable wood products company in New York and Oregon, introduces the latest addition to their popular Shou Sugi Ban line of Larch charred wood paneling: Undressed. This variation, as the name teases, comes with no additional finish applied, celebrating the tones and textures achieved with the ancient Japanese technique of burning wood.
"This Japanese technique is pragmatic and dynamic," explains Jonathan Orpin, founder and president of Pioneer Millworks. "Applied to our sustainably harvested Larch it offers designers and homeowners a choice of color and texture; a look that could evolve over time depending on exposure to the elements."
Shou Sugi Ban is an ancient Japanese technique of burning wood as a preservative treatment for exterior siding. Pioneer Millworks is applying this process to sustainably harvested Larch, an incidental species which has notable insect and rot resistance. The Undresses planks are burned then brushed to better expose the grain and texture of each unique board. It can be left to naturally weather and wear or be finished on-site. This grade joins three others: Deep Char which exposes an 'alligator-like' texture, Shallow Char which produces rich black and brown tones while maintaining saw marks and high relief grain texture, and Color Char which is charred, brushed, and burnished with color (most popular in blue, green, and red).
Suitable for interior or exterior vertical applications, the company notes that the Shou Sugi Ban technique can be applied to other reclaimed and sustainable wood species on request. The Undressed grade comes standard with shiplap or ripped two edges, 5" wide, 2" to 12' long.
"There is an effortless style achieved with this line," shares Jered Slusser, wood sales specialist at Pioneer Millworks. "The Undressed version offers such texture and tone that each time we share it folks want to interact, to touch it and see it in various applications. It is easy to understand why it is a hugely popular product and we're excited to share it." The company will showcase Shou Sugi Ban, Undressed at the International Builders Show (IBS) trade show in Las Vegas in January 21-23, 2020.
About Pioneer Millworks: For 30 years Pioneer Millworks has been inspired by all of you to develop creative reclaimed and sustainable wood flooring, paneling, and siding. Numerous species, grades, textures, and color options for architects, designers, builders, and homeowners are available. Options that are easy for builders to install; options that have a story which homeowners and end-users can connect with; options that are good for our people and our planet. Pioneer Millworks is FSC-certified and Green America approved. All of their products are LEED point eligible and many are UL GREENGUARD Gold certified.