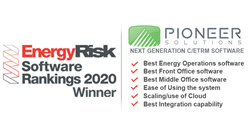 It is extremely gratifying to be recognized as Top ETRM Vendor directly by end-users and consultants, which grants the credibility to the Energy Risk survey results.
DENVER (PRWEB) March 31, 2020
Pioneer Solutions, a leading provider of commodity/energy trading and risk management solutions, announced today that it has swept up 24 #1 rankings out of a total of 43 sub-categories across 4 functional areas, thereby confirming its top rated ETRM vendor status.
The Energy Risk Software Rankings are compiled from the votes of Energy Risk readers and corporations that use the vendor systems. The awards identify the best C/ETRM systems, systems integrators, data providers and data management firms in a wide range of categories. Energy Risk magazine received voting forms from ETRM end users in utility/ power generation firms, power/ supply trading companies, banks, brokers, traders and consultants worldwide.
"It is extremely gratifying to be recognized as Top ETRM Vendor directly by end-users and consultants, which grants the credibility to the Energy Risk survey results," said Uday Baral, President of Pioneer Solutions. "With Pioneer Solutions as a partner, companies can reinvent themselves, transforming traditional business models and accelerating growth. In delivering what our customers need to future-proof their businesses, we believe our 21st‑century platform positions us as a true pioneer of the new ETRM era."
This year's Energy Risk software survey was expanded for the second year running to reflect some of the new technological offerings now available to energy and commodity trading firms beyond the core CTRM space. It contains an entirely new section on logistics, shipping, land and rail transport, as well as some new sub-categories throughout. The CTRM section has been divided into 'derivatives software', 'physical trading and operations software' and 'front- and middle-office functionality' to better reflect real-world operations.
Pioneer Solutions has a track-record of award-winning innovation, high-quality customer service, subject matter expertise, and a diverse product and service offerings: front-to-back, standalone solutions, managed services, along with deployment (onsite, remote hosted, true cloud multi-tenant SaaS) and implementation (by Pioneer staff or self-configuration) options, aimed at Enterprise and Non-Enterprise customers across commodities.
Number 1 rankings for Pioneer Solutions included Ease of Using the System, Best energy operations software, Best Front Office Software, Best Middle Office Software, Scaling/use of Cloud, and Best integration capability.
The results can be found at : https://www.risk.net/commodities/energy/7511636/energy-risk-software-rankings-a-different-world
About Pioneer Solutions
Pioneer Solutions is a global provider of C/ETRM, environmental management and financial and regulatory compliance solutions. Serving utilities and trading companies across the globe, Pioneer's Suite of flexible software applications deliver easy-to-use and integrated functionality for Trade Capture, Position Analysis, Portfolio Management, Risk Reporting and Settlement, thereby providing the insight and granularity to manage operations optimally. Our pioneering and award-winning software offers a user-configurable environment and designed for rapid deployment resulting in a lower total cost of ownership and enhanced customer satisfaction.