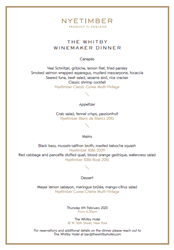 NEW YORK (PRWEB) January 21, 2020
Nyetimber, the leading producer of English Sparkling Wine, and The Whitby Hotel have teamed up to host an exclusive winemaker dinner on Thursday February 6th to showcase the producer's 1086 Prestige Cuvee and Prestige Cuvee Rosé.
Set in an elegant private dining room at The Whitby Hotel, the evening will begin with a glass of Nyetimber Classic Cuvee Multi-Vintage served with canapés, before sitting down to a three-course seasonal dinner, paired alongside a hand-picked selection of Nyetimber wines. Expert Winemaker, Brad Greatrix, will host the evening, guiding guests through the tasting notes of each wine.
This exclusive dinner marks Nyetimber's first winemaker dinner in the U.S. and serves as the launch of the acclaimed Nyetimber 1086 Rosé 2010 Prestige Cuvee which will be served alongside pancetta stuffed quail with blood orange gastrique, whilst the delicate sweetness of Cuvee Chérie Demi-Sec will complement a delicious dessert of Meyer lemon sabayon, meringue brulée and a fresh mango-citrus salad.
An icon of the English Sparkling Wine category, Nyetimber is a highly respected contemporary British luxury brand defined by authenticity and innovation, whose single aim is to make the finest English Sparkling Wine to rival the very best in the world.
Since the planting of the first vines in 1988, Nyetimber has established a reputation for producing world-renowned sparkling wines including the Classic Cuvee Multi-Vintage, Rosé Multi-Vintage, Cuvee Chérie Demi-Sec Multi-Vintage, Blanc de Blancs, Tillington Single Vineyard, and the newly released 1086 Prestige Cuvees – representing the pinnacle of English winemaking.
The 1086 Prestige Cuvee and Prestige Cuvee Rosé will be carried by retailers nationwide, including Tribeca Wine Merchants in New York City. For further inquiries regarding availability please contact sales@nyetimber.com.
Tickets cost $175 per person, including canapés and three-course dinner with Nyetimber wine pairings.
For reservations and further information contact
The Whitby Hotel at bar@thewhitbyhotel.com or visit http://www.firmdalehotels.com.
About Nyetimber
For over 30 years, Nyetimber has had a single aim: to make the finest English Sparkling Wine, one to rival the very best in the world. A true pioneer, Nyetimber was the first producer of English Sparkling Wine to exclusively grow the three celebrated grape varieties: Pinot Noir, Pinot Meunier and Chardonnay.
Nyetimber is made from one hundred percent estate-grown grapes and is regarded as England's finest sparkling wine. Owner and Chief Executive Eric Heerema and Head Winemaker Cherie Spriggs are committed to producing wines of exceptional quality.
Brad Greatrix, Winemaker
Brad Greatrix has been a Winemaker at Nyetimber since 2007, when he joined the business with his wife Cherie Spriggs, Head Winemaker. Sharing the vision of Eric Heerema, Brad has been integral to building Nyetimber into a sparkling wine producer that is rivalling the best in the world. Brad is responsible for managing the winemaking process across all sites, from the reception of the grapes at the Pressing Centre to the expedition of the bottled wine. Being instrumental to the brand's leading innovation, technology and CSR practices, Brad is considered to be the "brand guardian" and remains elemental in ensuring that Nyetimber continues to pioneer cutting edge practices in the production of sparkling wine.
Brad started his training in 2001, studying at some of the most prestigious oenology institutions in the world, and later worked with highly influential winemakers. After completing his studies in Canada and Australia, Brad spent time making wine in various locations across the globe including America (Oregon), Australia (McLaren Vale and Hunter Valley), New Zealand (Central Otago) and France (Margaux).
Brad and Cherie were introduced to Nyetimber when they received an early bottle as a gift from Cherie's parents. The quality potential was unmistakable, prompting Brad and Cherie to make contact with Eric Heerema, Owner and Chief Executive of Nyetimber, and soon after they would join him as Nyetimber's winemakers. Their combined focus, skill and pioneering approach to winemaking has led to the addition of Rosé, Demi-Sec and a single vineyard wine named Tillington to the Nyetimber portfolio. Further to these product launches, the brand was amongst the first to introduce the use of dark amber bottles to protect Nyetimber wines from harmful UV light – a practice now being increasingly adopted by other winemakers.
In 2013, Nyetimber was upgraded to 90 points in the Champagne and Sparkling Wine Encyclopedia, joining a small and elite group of sparkling producers worldwide at that level. Through Cherie and Brad's dedication to their craft, Nyetimber now stands proudly alongside the finest sparkling wines in the world.
About The Whitby Hotel
Part of Firmdale Hotels, The Whitby Hotel opened in February 2017 and is a celebration of contemporary art and design. It is located in Midtown Manhattan on West 56th Street at 5th Avenue. Interiors have been designed by Founder and Creative Director Kit Kemp, acclaimed for her individual and unique way of arranging spaces with a colourful and carefree spirit. There are 86 individually designed bedrooms and suites, The Whitby Bar and Restaurant, a beautiful Orangery filled with natural daylight, a book-lined Drawing Room, a leafy terrace, as well as three beautifully designed private event rooms, a 130 seat state-of-the-art theatre and a fully equipped gym.
Firmdale Hotels is privately owned by husband and wife Tim and Kit Kemp and comprises ten award winning luxury hotels in central London and New York. In London's West End there is Ham Yard Hotel, The Soho Hotel, Covent Garden Hotel, Charlotte Street Hotel and Haymarket Hotel as well as three townhouse properties including Dorset Square Hotel in Marylebone, Knightsbridge Hotel near Harrods and Number Sixteen in South Kensington. There is also Crosby Street Hotel in SoHo, New York.