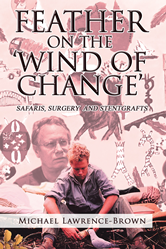 "With vivid characterization, florid prose, and dramatic flair, Lawrence-Brown offers stories of how helping ailing people became the cornerstone for many of his actions up to and including his development of the revolutionary stent graft for abdominal aortic aneurysms." - Kirkus Reviews
PERTH, Australia (PRWEB) November 18, 2019
Author, esteemed endovascular surgeon and Officer of the Order of Australia Dr. Michael Lawrence-Brown has released his memoir "Feather on the 'Wind of Change' Safaris, Surgery and Stentgrafts." Beginning with his unique upbringing in colonial East Africa then venturing into the various complications of migrating to a new country, studying medicine and participating in revolutionary research, Lawrence-Brown pays tribute on the many people and events involved in shaping his incredible life and career.
Born in Kenya during the dissolution of the British empire, Lawrence-Brown likens himself to a feather floating along the "Wind of Change," a reference to Prime Minister Harold McMillan's infamous speech signaling a sweep of decolonization across Africa. Reminiscing on his ungoverned childhood of safari adventures and eccentric pets, Lawrence-Brown contrasts it with the growing political uprisings and life-altering choice he must make to ultimately renounce Kenyan citizenship in pursuit of better educational opportunities in Australia.
Throughout the rest of the book, Lawrence-Brown candidly relays the highs and lows of adjusting to a new culture, the growing pains of adulthood and the trials of medical school set against the backdrop of a rapidly changing world. His unceasing passion for helping others combined with technological advancements opened a door for him to develop endovascular stentgrafts, a groundbreaking procedure for the treatment of aortic aneurysms.
"With vivid characterization, florid prose, and dramatic flair, Lawrence-Brown offers stories of how helping ailing people became the cornerstone for many of his actions up to and including his development of the revolutionary stent graft for abdominal aortic aneurysms," wrote Kirkus Reviews. "Readers interested in African history or cardiac medicine will find this atmospheric, meticulously detailed personal opus enticing, vastly informative, and entertaining."
A captivating memoir about a pioneer of modern vascular surgery, "Feather on the 'Wind of Change' Safaris, Surgery and Stentgrafts" imparts inspiration on how to overcome unfavorable circumstances to achieve something magnificent.
"Feather on the 'Wind of Change' Safaris, Surgery and Stentgrafts"
By Michael Lawrence-Brown
ISBN: 9781984502445 (softcover); 9781984502438 (hardcover); 9781984502452 (electronic)
Available from Amazon, Barnes & Noble and Xlibris
About the author
Dr. Michael Lawrence-Brown is an Australian emeritus consultant vascular surgeon in Western Australia. Born and raised in Kenya as a fifth-generation British colonial with a safari guide for a father, he migrated to Australia for further education in 1965. He studied Medicine in Sydney and moved to Perth in Western Australia in 1973 to train in surgery. He is a co-inventor of the Zenith family of endovascular stentgrafts that are used in the aorta for traumatic and aneurysm disease and a pioneer in the endovascular revolution to minimize the invasive procedures in vascular surgery. He is a fellow of the Royal Australasian College of Surgeons and received the honor of Officer of the Order of Australia. Michael is married with three sons and eight grandchildren. He still has some family in Kenya and a special place in his heart for East Africa. To learn more, please visit michaellawrencebrown.com.
Review Copies & Interview Requests:
LAVIDGE – Phoenix
Leslie Standridge
480-998-2600 x 586
lstandridge(at)lavidge(dot)com