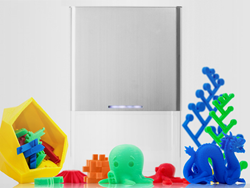 Palo Alto, California (PRWEB) April 10, 2014
Pirate3D has announced that the pre-orders of the Buccaneer 3D Printer will end on April 14th 2014. Until then, the 3D Printer will still be available on Pirate3D.com - priced at just US$497.
The Buccaneer is set to be on the shelves in Q3 2014 at a retail price of US$899.
Pirate3D's Buccaneer® project is one of the most successful fused filament fabrication (FFF) 3D printer on crowdfunding platform Kickstarter which raised a total of $1,438,765 in 30 Days.
About Pirate3D
Pirate3D is an innovative company focusing on the democratization of innovation, creativity and entrepreneurship using 3D printing technologies. Their first 3D printer, the Buccaneer®, is based on Fused Filament Fabrication (FFF) technique using PLA(polylatic acid). Pirate3D is incubated by the Institution of Engineers, Singapore(IES) and Red Dot Ventures.