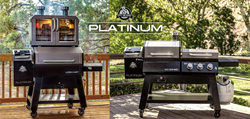 "They have dedicated themselves to becoming a barbeque destination, so it made perfect sense for us to release the Platinum Series, bringing the next level of barbeque to one of the largest retailers in the world."
PHOENIX (PRWEB) January 07, 2020
Pit Boss Grills, the fastest-growing grill brand in the industry, launched its new line, The Platinum Series, exclusively at Walmart. The Platinum Series Grills deliver the ultimate cooking experience by combining award-winning hardwood flavor with the best of outdoor cooking equipment.
Featuring the Lockhart Grill and KC Combo Grill, the all-in-one design combined with advanced technology are unlike anything else on the market. Each grill is powered by all-natural hardwood pellets with the Lockhart Grill offering a wood pellet grill and smoker with a double-door vertical smoker on top, while the KC Combo Grill showcases a three-burner gas grill, wood pellet grill and smoker, plus gas-griddle combined. This series also proudly launches Pit Boss' brand-new Smoke iT Technology. For the first time ever, Platinum Series Grill owners have access to world-class barbecue, right from their smartphone. Using Smoke iT's Bluetooth capability, grillers can do everything from adjusting grill temperatures to checking internal temps, priming the auger, and receiving pellet run-out alerts all within the Pit Boss app.
"Pit Boss Grills has been a proud partner of Walmart for many years," said Jeff Thiessen, president of Dansons. "They have dedicated themselves to becoming a barbeque destination, so it made perfect sense for us to release the Platinum Series, bringing the next level of barbeque to one of the largest retailers in the world."
Pit Boss Platinum Series Lockhart Grill levels up your traditional outdoor cooking experience. The Lockhart features more than 2,000 square inches of cooking surface and boasts a double-door smoking cabinet combined with a wood pellet grill for endless cooking opportunities. Experience incredible 8-in-1 versatility as you grill, smoke, bake, braise, roast, sear, char-grill, or barbecue – with the award-winning flavor of 100 percent all-natural hardwood pellets. In addition to advanced Smoke iT Technology, the Lockhart comes equipped with a state-of-the-art digital control board, precision-powered PID temperature control, and a key component alert system.
Pit Boss Platinum Series KC Combo Grill combines mouthwatering hardwood flavor with the convenience of gas. The wood pellet grill and smoker, gas grill, and outdoor griddle combination offers remarkable 11-in-1 cooking versatility. Grill, Smoke, Bake, Braise, Roast, Sear, Char-Grill, Barbecue, Scramble, Stir-fry, Sauté any recipe, any season, using all-natural hardwood pellets or liquid propane gas. The KC Combo also features advanced Smoke iT Technology, impressive PID temperature control, and a key component alert system that allows for quick and easy access to DIY troubleshooting.
Pit Boss Grills Smoke iT Technology offers Pit Boss grill owners hands-free access to their wood pellet grill. Using the Pit Boss App, grillers can utilize Bluetooth connectivity to adjust, track, and monitor their cooking sessions, with no Wi-Fi connection needed, from up to 30 feet away.
Additional features in the Pit Boss Platinum Series include robust temperature ranges of 180 degrees to 500 degrees, an innovative slide-plate flame broiler, built-in lighting for nighttime grilling, extra-large capacity hoppers, and the Pit Boss best-in-class 5-year warranty.
The Platinum Series is available at select Walmart locations across the U.S. and online at http://www.walmart.com/. To learn more about the Platinum Series, please visit http://www.pitboss-grills.com/platinum-series.
To learn more about Pit Boss Grills and other products, please visit http://www.pitboss-grills.com/.
###
About Pit Boss Grills
Pit Boss Grills is a subsidiary of Dansons, a global consumer goods company and home of multiple award-winning brands. The Pit Boss Grills mission is to provide world-class, competitive, innovative products while delivering superior results to all stakeholders, never compromising our integrity and honoring God who has provided these opportunities, to reinvest in those in need. As one of the fastest-growing grill brands in the industry, Pit Boss Grills are renowned for their Bigger. Hotter. Heavier craftsmanship. From premium features, durable long-lasting builds, and leading versatility, Pit Boss Grills proudly offers grill owners the best value per square inch in the market, a best-in-class 5-year warranty, and access to the passionate community of the Pit Boss Nation. For more information about Pit Boss Grills, please visit http://www.pitboss-grills.com/.