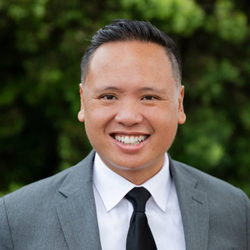 Pitch Real Estate is committed to giving San Diegans support at every step of the homebuying and selling process
SAN DIEGO (PRWEB) November 19, 2021
Pitch Real Estate today announced its partnership with Side, the only real estate technology company that exclusively partners with high-performing agents, teams, and independent brokerages to transform them into market-leading boutique brands and businesses. The alliance will ensure that Pitch Real Estate, a firm grounded in deep industry knowledge and local connections, is powered by the industry's most advanced platform.
Pitch Real Estate is led by Paul Caparas, who has been licensed in San Diego real estate since 2003. Featured multiple times on HGTV's hit show "House Hunters," the San Diego native is among the city's top 5% of agents by sales volume and will be in the top 2% by the end of 2021. He has accumulated a bevy of awards and accolades throughout his career, including San Diego Association of Realtors® 40 Under 40 Award. Caparas has also received the San Diego Magazine Five Star Professional Award for 14 years in a row. Pitch Real Estate's team focuses exclusively on San Diego properties and has experience with traditional sales, investment properties, short sales, and many other industry niches.
Partnering with Side will ensure Pitch Real Estate remains on the cutting edge of the evolving real estate market while continuing to deliver premium services to its clients. Side works behind the scenes, supporting Pitch Real Estate with a one-of-a-kind brokerage platform that includes proprietary technology, transaction management, branding and marketing services, public relations, legal support, lead generation, vendor management, infrastructure solutions, and more. Additionally, Pitch Real Estate will join an exclusive group of Side partners, tapping into an expansive network from coast to coast.
"I'm thrilled about Pitch Real Estate's collaboration with Side," said Caparas. "Pitch Real Estate is committed to giving San Diegans support at every step of the homebuying and selling process. Side's top-notch technology, support, and management tools enable us to concentrate completely on making the journey comfortable, memorable, and rewarding for our clients."
Side is led by experienced industry professionals and world-class engineers who develop technology designed to improve agent productivity and enhance the client experience. Based on its belief that homeownership is a fundamental human right, Side is on a mission to improve the public good by providing top-performing real estate agents, teams, and indie brokerages with the best system, support, service, experience, and results.
About Pitch Real Estate
The highly experienced, hardworking professional agents at Pitch Real Estate are passionate about making the real estate experience as rewarding as it can be. They bring vast industry experience to the table and uphold the company's vision of honest, customer-oriented service for all. Inspired by the golden rule, the team facilitates a professional yet fun environment in which clients thrive. For more information, visit http://www.pitchrealestate.com.
About Side
Side transforms high-performing agents, teams, and independent brokerages into successful businesses and boutique brands that are 100% agent-owned. Side exclusively partners with the best agents, empowering them with proprietary technology and a premier support team so they can be more productive, grow their business, and focus on serving their clients. Side is headquartered in San Francisco. For more information, visit http://www.sideinc.com.