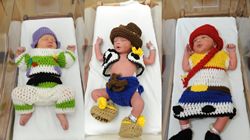 PITTSBURGH (PRWEB) November 20, 2020
Babies at Allegheny Health Network (AHN) are celebrating the 25th anniversary of the Pixar classic, Toy Story. Three of the newest additions at Pittsburgh-based West Penn hospital were dressed up as the film's most beloved characters on Thursday.
Santana Lamont Lee Davis, Ellis Kelley and Mia Tapp were dressed as "Woody," "Buzz Light Year," and "Jessie," respectively, to cheerfully commemorate the special milestone of the Disney animated movie this Sunday, Nov. 22.
AHN is western Pennsylvania's fastest growing health system for labor and delivery and at West Penn hospital, the Women & Infants Center welcomes thousands of newborns into the world every year.
The health system often use anniversaries and holidays, like Toy Story's 25th birthday, to showcase the amazing work taking place at the hospital and highlight the true joy these babies bring to their families and caregivers every day.
Pictures: https://f.io/HOLruUjH
Video: https://f.io/N_c0K09R
###
About the Allegheny Health Network:
Allegheny Health Network (AHN.org), a Highmark Health company, is an integrated healthcare delivery system serving the greater Western Pennsylvania region. The Network is composed of 13 hospitals, ambulatory surgery centers, Health + Wellness Pavilions, an employed physician organization, home and community-based health services, a research institute, and a group purchasing organization. The Network provides patients with access to a complete spectrum of advanced medical services, including nationally recognized programs for primary and emergency care, trauma care, cardiovascular disease, organ transplantation, cancer care, orthopedic surgery, neurology and neurosurgery, women's health, diabetes, autoimmune disease and more. AHN employs approximately 21,000 people, has more than 2,500 physicians on its medical staff and serves as a clinical campus for Drexel University College of Medicine and the Lake Erie College of Osteopathic Medicine.