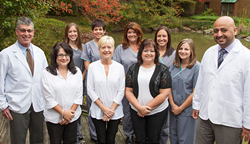 PITTSBURGH (PRWEB) January 16, 2019
Drs. Sam Bakuri and Mark J. Weingarden, board-certified periodontists in Pittsburgh, PA, recently completed a course on the impact of celiac disease and dental health with members of their team at Greater Pittsburgh Dental Implants & Periodontics. The training was led by Cynthia Kupper, RD, CD, CEO of the Gluten Intolerance Group (GIG) and leader in the gluten-free community. Always on the cutting-edge of comprehensive dentistry, this periodontal team is excited to implement a more broad, whole-body approach to dental care.
In the training, Drs. Bakuri and Weingarden learned about dental health issues that are often associated with celiac disease, including dental enamel defects, cavities and recurrent canker sores. Many of the dental health effects of celiac disease can start in early childhood, causing delayed dental development and defects that lead to health and cosmetic concerns later in life. To address these concerns, these Pittsburgh, PA periodontists and their team can suggest a range of dental options suitable for gluten-free lifestyles to help improve their dental and overall health.
With the knowledge acquired from this training, these highly trained and experienced periodontists, and the members of their team, are excited to offer more personalized experiences for new and existing patients with celiac disease at their Pittsburgh, PA practice. This training adds to the periodontists' more than thirty-three years of experience and is a reflection of their commitment to providing exceptional dental care to a variety of patients. Applying this new information to their practice, they can now more efficiently communicate with and diagnose dental concerns for celiac disease patients to provide higher quality care and more effective treatment solutions.
To discuss the potential dental health implications of celiac disease and any treatment options, Drs. Bakuri and Weingarden and their team invite new and existing patients to call them at 412-201-0633. To learn more about these periodontists in Pittsburgh, PA and their practice, please visit http://www.pittsburghimplantsandperio.com.
About the Practice
Drs. Mark J. Weingarden and Sam Bakuri, board-certified periodontists, offer minimally invasive and comprehensive periodontal treatments at their practice in Allison Park, PA. Dr. Weingarden has been voted "Top Dentist" in Pittsburgh each year since 2011 and has served as a President of the Pennsylvania Society of Periodontology. An active member of numerous organizations, he also founded the Pittsburgh Dental Network in pursuit of higher learning. Helping others is Dr. Bakuri's passion. He is certified in IV sedation, an Assistant Professor at the University of Pittsburgh School of Dental Medicine and founder and director of the Pittsburgh Dental Horizon Study Club. This team believes in providing preventative care whenever possible and have been nationally recognized for their effective gum disease treatment. To learn more about Drs. Weingarden and Bakuri or the services they offer, visit their website http://www.pittsburghimplantsandperio.com or call 412-201-0633 to schedule a consultation.