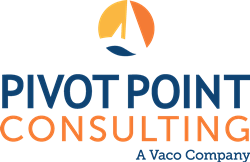 Our goal is to convene the best of the best to share insights, success stories and strategies."
NASHVILLE, Tenn. (PRWEB) March 18, 2021
Pivot Point Consulting, 2020 Best in KLAS Overall IT Services Firm and a healthcare IT consulting leader, is launching a new quarterly webinar series centered on healthcare IT hot topics. The webinars will cover current issues in data analytics, mergers and acquisitions, virtual care, revenue cycle management and managed services.
Lead by a Pivot Point Consulting expert, each one-hour webinar will feature hospital and health system leaders from across the U.S. speaking candidly about the latest challenges and issues in the constantly changing healthcare IT ecosystem.
"Data and information sharing has become fundamental to delivering quality patient care, ensuring operational efficiency, navigating reimbursement adherence and sustainability," stated Rachel Marano, Pivot Point Consulting Co-Founder and Managing Partner, Director. "Hospitals and health systems across the U.S. are piloting the impacts of COVID-19, the expanding virtual care services and the challenging reimbursement and revenue cycle requirements. Our goal is to convene the best of the best to share insights, success stories and strategies."
The first one-hour webinar will feature Joe Clemons Managing Director of Data Analytics leading the discussion on the decisions, benefits and challenges organizations face when determining how to structure and manage data assets, tools and teams.
Topic: Optimizing Your Data Analytics Resourcing: Team & Tool Centralization
Date: March 24, 2021, 11 a.m. to Noon Central
Moderator: Joe Clemons, Managing Director Data Analytics, Pivot Point Consulting
Featured Guests:
Julie Smith, Vice President, Clinical Applications and Enterprise Analytics, Banner Health
Holly Hallman, Director, Enterprise Analytics and Data Warehousing, Scripps Health
David Crockett, Assistant Vice President, Clinical Analytics, Intermountain Healthcare
Marina Brazhnikova, Director of Analytics, Ochsner Health
Registration:
Click here to register for the one-hour webinar.
To get the latest information on Pivot Point Consulting webinars visit https://pivotpointconsulting.com/insights/webinars-videos/
About Pivot Point Consulting
Pivot Point Consulting enables healthcare organizations to realize the most value from their technology through their Advisory, Enterprise Application Support, EHR, ERP, Data Analytics and Revenue Cycle Management services. Our experts deliver consulting, managed services and talent solutions to providers and payers.
Pivot Point Consulting has earned multiple industry and workplace quality awards, including Best in KLAS: Overall IT Services Firm (2020), Top Three Best in KLAS for HIT Implementation and Support (2015, 2016, 2017, 2018, 2019), Highest Rated Vendor in KLAS Implementation Services in the Select Category (2017), #1 in KLAS for Epic Consulting in the Select Category (2016), Modern Healthcare's Best Places to Work (2020). Practices: Epic®, Community Connect®, Cerner®, Siemens®, Allscripts®, MEDITECH®, McKesson®, Centricity®, eClinicalWorks®, NextGen® CPSI®, MEDHOST®, athenahealth®, Greenway®, Workday®, Lawson/Infor®, Peoplesoft®, SAP®, Kronos® and Facets®.
For more information, visit us at pivotpointconsulting.com.