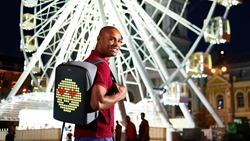 "Everyone uses a backpack, and everyone has their own unique style. We're excited to help people unleash their creativity in the backpack industry because nothing else is as customizable as PIX."
WALNUT, Calif. (PRWEB) August 22, 2018
Electronic accessories and wearables are becoming increasingly important for people to communicate and show off personal style. To help reveal creativity, Pix Inc. introduces PIX, the first smart animative backpack that allows the wearer to control its appearance right from their smartphone. Today, PIX launched a Kickstarter campaign in the hopes of raising $35,000 to bring PIX to people of all ages who like to stand out from the crowd.
PIX is a trendy, functional backpack, perfect for daily commutes, adventuring or walking around campus. PIX's durable design is water resistant and shock resistant to keep belongings safe during any endeavor. The backpack has a fully-colored screen built into the shell and is available in four different colors: grey, yellow, purple or blue. Users can easily and quickly control PIX's appearance with a mobile app via Bluetooth connection. With a library full of pictures, animations, widgets and games for users to choose from, the backpack can display things like weather, social media notifications, cyclist turning signals, time and date, Tetris games and more. In addition to the unlimited content provided, wearers can create their own designs.
"Everyone uses a backpack, and everyone has their own unique style," said Sergii Iezdin, Co-founder of PIX. "With society's focus on self-expression, technology and high-performance, we jumped on the idea of combining these factors. We're excited to help people unleash their creativity in the backpack industry because nothing else is as customizable as PIX."
PIX is compatible with any 2A output & USB Type-A powerbank. A 20,000mAh powerbank, which will power PIX for about 12 hours, is also available for purchase through the Kickstarter campaign. With several separate compartments for ample storage space, PIX has plenty of room for a laptop, tablet and other belongings.
PIX is currently available for preorder on Kickstarter for $199.00 USD to receive one (1) PIX backpack for almost 25% off the future retail price. For more information about the campaign or to place an order, visit pr.go2.fund/pix.
About Pix Inc.
The Pix Inc. team is comprised of a group of innovators who focus on creating products that help consumers express their personality and customize their appearance on the go. The company brings an animative backpack to the market for energetic, creative people to emphasize their individuality. In addition to creating fun, functional and durable gear, Pix Inc. believes in inspiring others to communicate freely and continue to share their style and uniqueness. To learn more, visit pix.style.