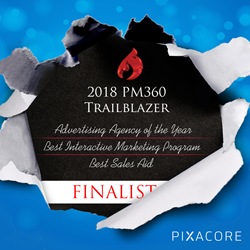 We attribute PIXACORE's success to our culture of constant innovation and strong relationships –Dhaval Parikh
NEW YORK (PRWEB) September 07, 2018
The PM360 Trailblazer Awards recognize outstanding achievement and innovation in healthcare marketing, and PIXACORE is honored to be named a Company of the Year finalist in the Advertising Agency category. PIXACORE has 2 other entries up for recognition in Sales Aid and Interactive Marketing Program in the Initiatives category.
"We feel extremely proud of the PIXACORE family," said PIXACORE Managing Director and President, Dhaval Parikh. "We attribute PIXACORE's success to our culture of constant innovation and strong relationships—a culture that everyone firmly believes in; and to how we work with our clients. But there is a lot more to creating a beneficial experience—it requires a thoughtful blending of strategy, technology, and creativity to have a positive impact. We call this beneficial intelligence, and we operate with this mindset every day." He continues, "This mindset is why we have seen significant organic growth. We are continuously gaining new business and keeping our current clients. We haven't lost a client in 10 years. Our beneficial intelligence culture is the reason our clients grow with us—and stay with us."
Since 2009, the PM360 Trailblazer awards have recognized outstanding achievement and innovation in healthcare marketing. Each year, nominations are judged by the PM360 Editorial Advisory Board, a distinguished cross-section of industry experts. The Company of the Year judging criteria included: Innovation (pursuit of excellence and innovation across the board in advertising, sales, product development, public relations, and communication); Talent Development (a record of attracting, developing, and keeping talent); and Social Responsibility (supporting patient access, civic and global involvement, and environmental consciousness).
Companies of the Year are selected in five categories: Pharma/Biotech, Medical Device/Diagnostics, Specialty Pharma/Biotech, Advertising Agency, and Vendor/Supplier.
The PM360 Trailblazers Awards Gala takes place on September 13, 2018 at Gotham Hall in New York City. Tickets for the Trailblazer Awards Gala can be purchased by visiting http://www.cvent.com/d/lgqs5c. Please note, reservations are limited. For more information about tickets, contact Kayla Walsh at 646-300-8117 or kayla.walsh@pm360online.com.
You can also follow the awards real-time on Twitter at http://www.twitter.com/pm360online.
ABOUT PIXACORE
PIXACORE, an independent, full service agency based in New York City, is focused on healthcare, biotech, and pharmaceutical industries. With more than 15 years of brand strategy and multichannel expertise, along with a dedicated R&D staff, we're redefining what it means to be a strategic, creative, and data-insight–driven agency partner.