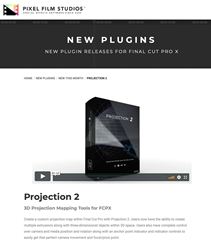 "An impressive release, Projection 2 brings updated and intuitive 3D projection mapping tools to Final Cut Pro X!"
ALISO VIEJO, Calif. (PRWEB) November 15, 2018
Create a custom projection map within Final Cut Pro with Projection 2. Users now have the ability to create multiple extrusions along with three-dimensional objects within 3D space. Users also have complete control over camera and media position and rotation along with an anchor point indicator and indicator controls to easily get that perfect camera movement and focal/pivot point.
With Projection 2 users now have the ability to project 2D media onto fully customizable 3D surface directly within Final Cut Pro. Users can create multiple extrusions and objects all within 3D space. Projection offers complete control over media anchor point, camera position and rotation, projection media position and rotation, and more.
With Projection 2 users can place any media in a drop zone above a projection or give a brief description with text. Create a dynamic advertisement or amaze audiences.
With Projection 2 users now have the ability to create multiple extrusions or objects all within 3D space. Create the perfect shape and move it vertices with a click. Users can now give dimension to a particular object within a scene, or create a windy road with multiple extrusions.
With Projection 2 users now have complete control over anchor point to alter the camera's focal and pivot point of interest, the ability to move multiple vertices within 3D space and create an endless amount of 3D objects to fit absolutely any personal scene.
Projection 2 was professionally designed to work seamlessly inside of Final Cut Pro X. As a generator effect, Projection 2 can be dragged and dropped and previewed in real time. With the published parameters found in the FCPX inspector, users have the ability to make further adjustments with just a few clicks of a mouse.
Established in 2006, Aliso Viejo, California-based Pixel Film Studios is an innovative developer of visual effects tools for the post-production and broadcast community. Their products are integrated with popular non-linear editing and compositing products from Apple FCPX. Apple, the Apple logo, Mac OS X, and Macintosh are registered trademarks of Apple Inc. in the U.S. and/or other countries. All other trademarks and trade names are the property of their respective owners.