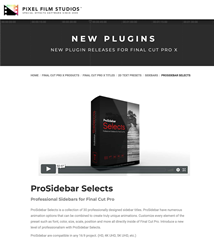 "ProSidebar Selects provides Final Cut Pro X users with stylized and fully customizable sidebars that are perfect for adding extra flair to any project."
ALISO VIEJO, Calif. (PRWEB) January 30, 2019
ProSidebar Selects is a collection of 30 professionally designed sidebar titles. ProSidebar has numerous animation options that can be combined to create truly unique animations. Customize every element of the preset such as font, color, size, scale, position and more all directly inside of Final Cut Pro. Introduce a new level of professionalism with ProSidebar Selects.
ProSidebar Selects includes 30 sidebar titles created exclusively for Final Cut Pro X. Each ProSidebar Selects preset is adaptable to any project and features customizable animations, colors, and more.
ProSidebar Selects can also be used to display large blocks of text. Use ProSidebar to define a term, introduce a person and their position, or describe what is happening in the scene. Each preset can be edited to work for all types of media and text arrangements.
ProSidebar Selects allows users to replace default text with custom designs. Changing the text is easy. Just select the current text. Delete it. Then, type in new text. Users can change colors, fonts, and much more. Select from a wide range of animation options to create some truly unique animations.
Established in 2006, Aliso Viejo, California-based Pixel Film Studios is an innovative developer of visual effects tools for the post-production and broadcast community. Their products are integrated with popular non-linear editing and compositing products from Apple FCPX. Apple, the Apple logo, Mac OS X, and Macintosh are registered trademarks of Apple Inc. in the U.S. and/or other countries. All other trademarks and trade names are the property of their respective owners.