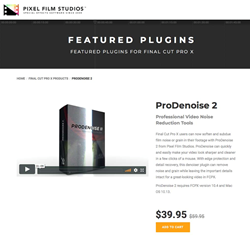 "Newly redesigned denoiser technology now effectively removes unwanted video noise from footage in Final Cut Pro X!"
ALISO VIEJO, Calif. (PRWEB) August 15, 2018
Final Cut Pro X users can now soften and subdue film noise or grain in footage with ProDenoise 2 from Pixel Film Studios. ProDenoise can effectively make any video look sharper and cleaner. With edge protection and detail recovery, this denoiser plugin can remove noise and grain while leaving the important details intact for a great-looking video in FCPX.
Users have complete control over denoise strength, radius, frequencies, quality, and even a preview mode. With ProDenoise 2 users can finally get rid of the noise from all personal media in a matter of minutes.
ProDenoise 2 has been redesigned from the ground up with a new and improved video noise reduction algorithm. ProDenoise 2 gets rid of noise in low light settings or footage shot with high ISO's without removing detail.
ProDenoise 2 was professionally designed to work seamlessly inside of Final Cut Pro X. As an effect, ProDenoise 2 can be dragged and dropped onto media and previewed in real time. With the published parameters found in the FCPX inspector, users have the ability to make further adjustments with just a few clicks of a mouse.
Established in 2006, Aliso Viejo, California-based Pixel Film Studios is an innovative developer of visual effects tools for the post-production and broadcast community. Their products are integrated with popular non-linear editing and compositing products from Apple FCPX. Apple, the Apple logo, Mac OS X, and Macintosh are registered trademarks of Apple Inc. in the U.S. and/or other countries. All other trademarks and trade names are the property of their respective owners.