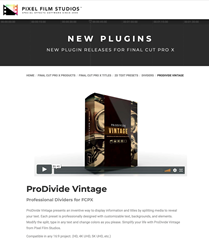 "Combining vintage design with customizable dividers to create the ultimate Final Cut plugin, ProDivide Vintage has it all!"
ALISO VIEJO, Calif. (PRWEB) November 09, 2018
ProDivide Vintage presents an inventive way to display information and titles by splitting media to reveal text. Each preset is professionally designed with customizable text, backgrounds, and elements. Modify the split, type in any text and change colors. Simplify life with ProDivide Vintage from Pixel Film Studios.
ProDivide Vintage features 30 divider titles designed for Final Cut Pro X. This makes sure users have lots of variety when displaying info titles. Plus, each ProDivide Vintage preset is totally customizable and adaptable to any project.
ProDivide Vintage features a unique way of displaying titles and information. ProDivide works by creating a split in any media revealing underlying text. The split can be offset horizontally, scaled in or out, and angled to add more excitement.
ProDivide Vintage allows users to replace preset text with custom text. Changing the text is easy. Just select the current text, delete it, then type in new text. Users can change colors, fonts, and much more.
Established in 2006, Aliso Viejo, California-based Pixel Film Studios is an innovative developer of visual effects tools for the post-production and broadcast community. Their products are integrated with popular non-linear editing and compositing products from Apple FCPX. Apple, the Apple logo, Mac OS X, and Macintosh are registered trademarks of Apple Inc. in the U.S. and/or other countries. All other trademarks and trade names are the property of their respective owners.