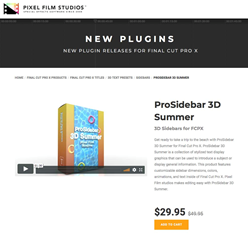 "ProSidebar 3D Summer is a splash of 3D summer fun for any Final Cut Pro X project with fully customizable sidebars."
ALISO VIEJO, Calif. (PRWEB) September 14, 2018
Get ready to take a trip to the beach with ProSidebar 3D Summer for Final Cut Pro X. ProSidebar 3D Summer is a collection of stylized text display graphics that can be used to introduce a subject or display general information. This product features customizable sidebar dimensions, colors, animations, and text inside of Final Cut Pro X. Pixel Film studios makes editing easy with ProSidebar 3D Summer.
ProSidebar 3D can be used in a variety of ways. Use ProSidebar 3D to present any subject. Introduce people, locations, features, and events. The possibilities are endless. ProSidebar 3D can also be used to display lists, rankings, schedules, recipes and general information in Final Cut Pro X.
Edit the dimensions of each sidebar using a few simple sliders. ProSidebar 3D contains Width, Height, and Depth slider controls so that users can easily resize sidebars for any purpose. Create sidebars of various sizes and shapes in Final Cut Pro X.
ProSidebar 3D users can animate each sidebar with full customization options. Just set the location of the Start/End position and rotation. Then, set the Mid position and rotation. This is where the sidebar will end up when finished animating.
Using ProSidebar 3D is incredibly easy. Just find a preset from the Titles Browser in Final Cut Pro X. Then, drag and drop it onto any media in the timeline. ProSidebar 3D is ready-to-use with controls in the Inspector window.
Established in 2006, Aliso Viejo, California-based Pixel Film Studios is an innovative developer of visual effects tools for the post-production and broadcast community. Their products are integrated with popular non-linear editing and compositing products from Apple FCPX. Apple, the Apple logo, Mac OS X, and Macintosh are registered trademarks of Apple Inc. in the U.S. and/or other countries. All other trademarks and trade names are the property of their respective owners.