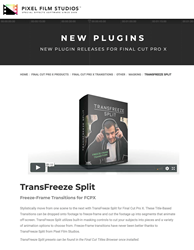 "TransFreeze Split adds exciting energy to stylized freeze-frame transitions for Final Cut Pro X!"
ALISO VIEJO, Calif. (PRWEB) November 20, 2018
Stylistically move from one scene to the next with TransFreeze Split for Final Cut Pro X. These Title-Based Transitions can be dropped onto footage to freeze-frame and cut the footage up into segments that animate off-screen. TransFreeze Split utilizes built-in masking controls to cut subjects into pieces and add a variety of animation options to choose from. Freeze-Frame transitions have never been better thanks to TransFreeze Split from Pixel Film Studios.
After installing TransFreeze Split, users will find it in the Titles Browser of your Final Cut Pro X library. There are ten presets to choose from. Each preset contains a smooth or shaky animation and varying mask types.
TransFreeze Split features a variety of different options. First, select a preset with either 2 or 3 built-in masks. Then, choose between animations with offset timing or ones that animate simultaneously. Find the perfect preset for any scene.
Each masking type features Smooth and Stuttering animation variations. This makes TransFreeze Split extra versatile and compatible with any style production. Stutter presets include an advanced control scheme for manipulating shakiness while Smooth presets feature simple controls and are incredibly easy to use.
TransFreeze Split is great for isolating a subject before cutting it out of frame. Just use one of the masks to outline the subject and one or two of them to cut the surrounding background pieces.
Established in 2006, Aliso Viejo, California-based Pixel Film Studios is an innovative developer of visual effects tools for the post-production and broadcast community. Their products are integrated with popular non-linear editing and compositing products from Apple FCPX. Apple, the Apple logo, Mac OS X, and Macintosh are registered trademarks of Apple Inc. in the U.S. and/or other countries. All other trademarks and trade names are the property of their respective owners.