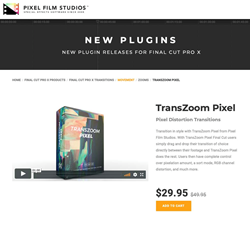 "TransZoom Pixel combines the high-intensity of TransZoom with the stylized distortion effects of Datamosh to create this unique and exciting transition, exclusive to Final Cut Pro X."
ALISO VIEJO, Calif. (PRWEB) October 16, 2018
Transition in style with TransZoom Pixe l from Pixel Film Studios. With TransZoom Pixel Final Cut users simply drag and drop any transition of choice directly between footage and TransZoom Pixel does the rest. Users then have complete control over pixelation amount, a sort mode, RGB channel distortion, and much more.
With TransZoom Pixel users have a wide selection of zooming pixel sorting transitions to select from within Final Cut Pro. User can select from transitions such as bubble burst, corner, horizontal close, horizontal cover, horizontal open, horizontal reveal, horizontal slide, invert & burst, jiggle, ripple wave, roll, swish, vertical close, vertical cover, vertical open, vertical reveal, vertical slide, x flip, y flip, zoom in, zoom in & out, zoom left & right, zoom up & down.
With TransZoom Pixel drag and drop preset users simply select a style, drop it between footage, and see instant results. With ultra-fast render, speed users have the ability to see it in full effect frame by frame without having to prerender.
With TransZoom Pixel users have complete control over the overall look and feel with each transition. Users can customize published parameters such as distortion, bounce, direction, blur, brightness, red channel offset, blue channel offset, green channel offset, camera controls, in speed, out speed, a sort mode, row pixelation, column pixelation, sort reversal, and more.
TransZoom Pixel was professionally designed to work seamlessly inside of Final Cut Pro X. As a transition effect, TransZoom Pixel can be dragged and dropped onto media and previewed in real time. With the published parameters found in the FCPX inspector, users have the ability to make further adjustments with just a few clicks of a mouse.
Established in 2006, Aliso Viejo, California-based Pixel Film Studios is an innovative developer of visual effects tools for the post-production and broadcast community. Their products are integrated with popular non-linear editing and compositing products from Apple FCPX. Apple, the Apple logo, Mac OS X, and Macintosh are registered trademarks of Apple Inc. in the U.S. and/or other countries. All other trademarks and trade names are the property of their respective owners.