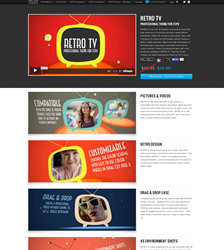 This is a great theme for fun retro videos.
Aliso Viejo, CA (PRWEB) April 13, 2014
Pixel Film Studios annunced the release of Retro TV Theme for Final Cut Pro X. A professional FCPX template.
"This is a great theme for fun retro videos," said Christina Austin, CEO of Pixel Film Studios
Retro TV has over 45 dynamic environment shots that take audiences on a journey through a world without boundaries. Utilize the numerous generators, titles, and transitions to create an FCPX project without having to place a single keyframe. Adjust the scale and position of all media types using easy to use drop zones and on-screen controls. Create a professional video with a full production package in Retro TV. Pixel Film Studio themes are made exclusively for Final Cut Pro X users.
Retro TV , like all of Pixel Film Studio themes, is compatible with both pictures and videos. Apply personal media into each of the drop zones in any given scene and watch the environment spring to life. Retro TV is self animating which means less editing for users, and more time to enjoy a professional grade video.
Retro TV draws inspiration from an older time when colors were bolder and borders were less prevalant. Pixel Flim Studios Retro TV offers a throwback feel with universal simplicity. Control everything from the colors of the airy environment, to the tones of the funky TV and offset carpet.
Creating a professional quality video is easy with Pixel Film Studio's themes. Simply pick from the wide selection of predesigned scenes found in the generators library in FCPX into the timeline. Sequentially build a full length video by dragging generators next to each other. Add lower thirds, transitions, and even a logo to spice things up.
Retro TV takes audiences into an airy world with over 45 dynamic camera shots. Angles range from drop zone & text reveals, to basic slides, booms, dollys, and sweeps. Choose from the large variety of movements to bring life to projects and captivate audiences.
Create a professional video without a single keyframe all within Apple's Final Cut Pro X. Easily adjust the colors of Retro TV 's environment shots and lower thirds with the help of an intuitive color wheel. Activate on screen controls for text and drop zones simply by double clicking in the FCPX. Drag and drop the static transitions between clips to seamlessly flip from scene to scene.
Established in 2006, Aliso Viejo, California-based Pixel Film Studios is an innovative developer of visual effects tools for the post-production and broadcast community. Their products are integrated with popular non-linear editing and compositing products from Apple FCPX. All Apple, the Apple logo, and Macintosh are registered trademarks of Apple Inc. in the U.S. and/or other countries. All other trademarks and trade names are the property of their respective owners.