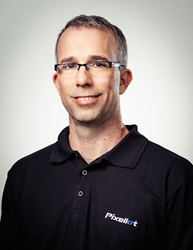 TEL AVIV, Israel (PRWEB) April 04, 2019
Pixellot – the leading provider of AI-Automated™ sports production solutions today announced the launch of Pixellot Prime – a new broadcast quality version of its market-leading automated sports production solution.
The new capabilities create an opportunity for sports production companies, sports broadcasters, and distributors to offer more sporting events than ever before, without the costs associated with live productions.
Pixellot Prime adds full HD 1080p broadcasts at native 50-60 FPS, 8K capture delivered via streaming or uncompressed SDI, low-latency streaming, automated game highlights and graphics. Clients can choose either a "clean" feed, streaming only the sports action, or a program ("dirty") feed and select from a wide collection of integrated graphics, adding opportunities for advertisements and sponsorship.
"Pixellot Prime opens up a whole new market of pro and semi-pro sporting events to the advantages of AI-Automated production," said Gal Oz, CTO and Co-Founder of Pixellot. "Improving the viewer experience and engagement, while significantly lowering the overall production costs will create new possibilities for live and on-demand content. Pixellot high-quality produced content can now serve both sporting event broadcasts and OTT sports distribution."
For productions with additional requirements, Pixellot Prime can be augmented by additional angles, a live or remote commentator and a director suite to create replays and switch between cameras. With high-quality capabilities and feature sets, Pixellot installations to date have produced over 400,000 games, while generating over 40,000 live hours per month. Now, more leagues, federations and universities around the world can adopt this technology and add new content for their fans.
Pixellot will be exhibiting at the National Association of Broadcasters (NAB) Show April 8-11 in Las Vegas, Booth SU11206.
About Pixellot
Pixellot offers automated sports production solutions that provide affordable alternatives to traditional video capture, production, and distribution systems for professional and semi-professional sports events. Founded in 2013, Pixellot's AI technology solution streamlines production workflow by creating a stitched panoramic image of the entire playing surface. Advanced algorithms enable automated coverage of the flow of play and generate highlights. Pixellot systems are deployed by broadcasters, production companies, clubs, federations, universities, high schools, sports portals, and coaching solution providers around the globe.
For more information: http://www.pixellot.tv
Company Contact:
Yossi Tarablus | Director of Marketing | +972 522 890 297 | yossit(at)pixellot.tv
Media Contact:
Zachary Abaie | Buffalo.Agency | 571.521.9672 | zabaie(at)buffalo.agency