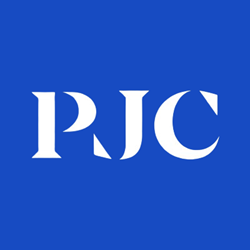 Matt has contributed tremendously to our firm and portfolio companies over the last six years. His ability to identify promising early stage companies and build strong relationships with the entrepreneurs that he works with has made him stand out
BOSTON (PRWEB) February 04, 2021
PJC, an early-stage venture capital firm investing in innovative, high-growth companies, is excited to announce the promotion of Matt Hayes to General Partner and the addition of Marissa Milbury as Vice President.
"Matt has contributed tremendously to our firm and portfolio companies over the last six years. His ability to identify promising early stage companies and build strong relationships with the entrepreneurs that he works with has made him stand out" said David Martirano, the Managing Partner at PJC. Matt is actively involved in the firm's investments in BlockFi, Feather, Lively, Eden Health, Luca + Danni, Thunkable and TrueNorth.
Marissa joined the PJC team as Vice President in February of 2020 where she has been focused on investments across industries in B2B SaaS, consumer tech and AI/ML. She joined PJC from Toast, a Boston-based unicorn, where she spent 5 years focused on product strategy for partnerships and third-party developer ecosystems. "We talk a lot about team, and how important it is when we're evaluating early-stage companies,'' said Marissa Milbury, "Team is the main reason why I am so excited and proud to be a part of PJC. I get to learn, build and innovate with the best teams out there."
"Marissa's deep experience as a product leader in high growth B2B technology companies will be hugely beneficial to our portfolio companies. We are thrilled to have her as part of our investment team." said Rob May, General Partner at PJC.
The addition of Marissa Milbury and promotion of Matt Hayes comes off the heels of the firm's continued growth with the addition of Alok Deshpande as Venture Partner and Todd Earwood as an Operating Partner in 2020. The firm also closed on it's fifth fund in 2020, raising 100 million to help fuel PJC's commitment to funding early stage companies within the enterprise, consumer and AI space.
Promotion to General Partner:
Matt Hayes – Matt Hayes first joined PJC in 2015 as a Principal with a focus on the firm's consumer and enterprise technology investments. Prior to PJC, Matt was a member of the founding team at Teespring.com, an innovative commerce platform with backers such as Y Combinator, Andreessen Horowitz, and Khosla Ventures. At Teespring, Matt's responsibilities included seller growth, business development, strategic partnerships, and corporate initiatives during a period of rapid growth. Matt received his MBA from Columbia Business School and graduated Magna Cum Laude with a B.S from the University of Rhode Island. His full bio can be found on the PJC website at https://www.pjc.vc/team/matt.
Joined PJC as Vice President in February 2020:
Marissa Milbury - Marissa Milbury joined the PJC team in early 2020. Prior to joining PJC, Marissa was an early employee at Boston-based hospitality platform Toast where she launched and led the Partner product teams. She began her career in tech at healthcare EMR giant Epic where she helped launch their first post-acute product implementation teams. She graduated from the University of Maryland, B.A. in Political Science. Her full bio can be found on the PJC website at https://www.pjc.vc/team/marissa.
About PJC
PJC is an early stage venture capital firm investing in innovative, high-growth companies that are building technology to disrupt the status quo. The firm seeks to be the first institutional capital deployed into a company and is focused on being a true partner to entrepreneurs as they drive their companies toward becoming industry leaders in their respective categories. The firm has invested in over 100 companies across North America including notable companies like Expensify, Nest, Blockfi, GetWellNetwork, Nexamp, and Yandex. PJC was founded in 2001 and is based in Boston, MA. For more information, visit http://www.pjc.vc.