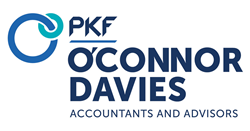 "I'm thrilled to join the PKF O'Connor Davies team and contribute to making sure all of our work meets the highest possible standards," said Jeffrey Gittler, Commercial Practice Area Partner.
NEW YORK (PRWEB) August 13, 2019
PKF O'Connor Davies, LLP, one of the nation's largest accounting, tax and advisory firms, announced today that it has hired Jeffrey Gittler. Gittler will serve as a partner in PKF O'Connor Davies' commercial practice area with a focus on the Firm's cannabis industry services.
"Jeff brings a unique perspective after a career spent leading accounting and auditing quality control groups at top East Coast firms," said Kevin J. Keane, Managing Partner. "His leadership and cannabis industry expertise makes him a valuable addition to our commercial practice. We are excited to bring his skills to our developing cannabis practice and have him join the PKF O'Connor Davies team."
Prior to joining PKF O'Connor Davies, Gittler built an established career as a certified public accountant focused on ensuring the quality of services provided to clients. For over 35 years, he has worked for several leading accounting firms in New York City and Eastern Pennsylvania, providing accounting and tax services with concentration in quality control and audit services for several industries including government services, healthcare, employee benefits and non-profits.
"I'm thrilled to join the PKF O'Connor Davies team and contribute to making sure all of our work meets the highest possible standards," said Jeffrey Gittler, Commercial Practice Area Partner. "The Firm has a rich history of providing expert advisory services in established and emerging industries, and I look forward to helping to shape the firm's cannabis industry practice."
Gittler holds several leadership positions in professional organizations and regularly seeks out continuing education opportunities in the accounting space. He is a past President of the Lehigh Valley Chapter of the Pennsylvania Institute of Certified Public Accountants (PICPA). He is also a past member of the PICPA chapter education committee and state quality review committee. Currently he is vice-chair of the cannabis industry committee, active member of the accounting and review services and stock brokerage committees of the New York State Society of CPAs. He is also a former chair of the Durham County, NC Audit Committee.
Gittler graduated from Indiana University of Pennsylvania cum laude with degrees in accounting and management information systems. He is an active member of the community, having served numerous volunteer leadership positions.
PKF O'Connor Davies has 11 offices in five states as it continues to expand through organic growth and acquisitions on the East Coast. It has supported this growth with a strategic combination of promoting from within coupled with tactical external hires.
About PKF O'Connor Davies, LLP
PKF O'Connor Davies, LLP is a full service certified public accounting and advisory firm with a long history of serving clients both domestically and internationally. With roots tracing to 1891, 11 offices in New York, New Jersey, Connecticut, Maryland and Rhode Island and more than 700 professionals led by over 100 partners, the Firm provides a complete range of accounting, auditing, tax and management advisory services.
PKF O'Connor Davies is a top-ranked firm according to Accounting Today's 2019 "Top 100 Firms" list and the Firm is also recognized as a "Leader in Audit and Accounting," a "Pacesetter in Growth" and one of the "Top Firms in the Mid-Atlantic." In 2019, PKF O'Connor Davies was named one of Vault's Accounting 50, a ranking of the 50 best accounting employers to work for in North America and ranked among the top 50 most prestigious accounting firms in America in a complementary Vault survey. The Firm is the 12th largest accounting firm in the New York Metropolitan area, according to Crain's New York Business, and the 10th top accounting firm in New Jersey according to NJBiz's 2018 rankings.
PKF O'Connor Davies is enrolled in the AICPA Peer Review Program and has central memberships in the Private Companies Practice Section (PCPS), the Employee Benefit Plan Audit Quality Center (EBPAQC) and the Government Audit Quality Center (GAQC).
By consistently delivering proactive, thorough and efficient service, PKF O'Connor Davies has built long-lasting, valuable relationships with its clients. Partners are closely involved in the day-to-day management of engagements, ensuring a high degree of client service and cost effectiveness. The Firm's seasoned professional staff members employ a team approach to all engagements to provide clients with the utmost quality and timely services aimed at helping them succeed. Continuity of staffing and attention to detail in all client engagements make the Firm stand out among its competitors.
PKF O'Connor Davies is the lead North American representative of the international association of PKF member firms. PKF International is a network of legally independent member firms providing accounting, tax, and business advisory services in over 400 locations in 150 countries around the world. With its tradition, experience and focus on the future, PKF O'Connor Davies is ready to help clients meet today's ever-changing economic conditions and manage the growing complexities of the regulatory environment. For more information, visit http://www.PKFOD.com.