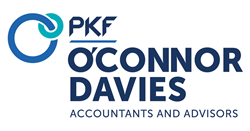 "Our Private Clubs practice has seen rapid expansion in recent years thanks to Ned's leadership and Geoff's proven expertise," said Kevin J. Keane, Managing Partner at PKF O'Connor Davies.
NEW YORK (PRWEB) July 09, 2020
PKF O'Connor Davies, LLP, one of the nation's largest accounting, tax, and advisory firms, announced today it has promoted Geoffrey Benedict to Co-Lead Partner of the Firm's Private Clubs practice. He joins current practice leader, Ned McCrory, in sharing leadership responsibilities for the group. Benedict has played a vital part in the expansion of the Firm's Private Clubs practice area. This new title formalizes his leadership role and reflects the Firm's commitment to providing top-tier expertise and service to the Firm's growing Private Clubs practice.
"Our Private Clubs practice has seen rapid expansion in recent years thanks to Ned's leadership and Geoff's proven expertise," said Kevin J. Keane, Managing Partner at PKF O'Connor Davies. "Geoff's passion for accounting and client service is apparent in all aspects of his work. Tackling issues with private clubs requires that extra bit of creativity and commitment, and we look forward to seeing how Geoff can help guide the practice area to even greater heights."
Benedict has over 20 years of experience in the accounting industry. Prior to joining PKF O'Connor Davies, he served as the founding partner for a regional accounting firm, where he led the assurance and tax practice. He specializes in providing services to private clubs, not-for-profit organizations, closely-held businesses, and individuals. His engagements include financial reporting, audit, review, tax, and consulting services.
"Private clubs face the unique challenge of providing an exclusive experience for members in a cost-conscious environment – that's no easy task," Benedict said. "Our team has developed a real knack for helping clients with these challenges, and I'm so excited to move into this expanded leadership role and advance the services we provide to our clients."
Benedict, who works out of the Bethesda, Maryland, office, is a certified public accountant and a chartered global management accountant. He is a member of the American Institute of Certified Public Accountants, the Maryland Association of Certified Public Accountants, and the Maryland Society of Accountants. He serves as president of the Maryland Chapter of the Hospitality Financial and Technical Professionals. He was the recipient of the 2017 "Big Cheese Award" presented by the Club Tax Network for "taking care of his slice of the Club industry with distinction." He is an active member of several community organizations, including serving as the treasurer and as a leader for the local boy scouts. He also is a member of the Oriole Advocates, a local charitable group. He is a graduate of Towson University with a Bachelor of Science degree in Accounting.
PKF O'Connor Davies has 12 offices in five states and continues to expand through organic growth and acquisitions on the East Coast. It has supported this growth with a strategic combination of promoting from within coupled with tactical external hires.
About PKF O'Connor Davies, LLP
PKF O'Connor Davies, LLP is a full-service certified public accounting and advisory firm with a long history of serving clients both domestically and internationally. With roots tracing to 1891, 12 offices in New York, New Jersey, Connecticut, Maryland and Rhode Island and more than 800 professionals led by over 100 partners, the Firm provides a complete range of accounting, auditing, tax and management advisory services.
PKF O'Connor Davies is a top-ranked firm according to Accounting Today's 2020 "Top 100 Firms" list, and the Firm is also recognized as a "Leader in Audit and Accounting," a "Pacesetter in Growth" and one of the "Top Firms in the Mid-Atlantic." In 2021 rankings, PKF O'Connor Davies was named one of Vault's Accounting 50, a ranking of the 50 best accounting employers to work for in North America, and ranked among the top 50 most prestigious accounting firms in America in a complementary Vault survey. The Firm is the 12th largest accounting firm in the New York Metropolitan area, according to Crain's New York Business, and the 10th top accounting firm in New Jersey according to NJBiz's 2019 rankings.
PKF O'Connor Davies is enrolled in the AICPA Peer Review Program and has central memberships in the Private Companies Practice Section (PCPS), the Employee Benefit Plan Audit Quality Center (EBPAQC), Government Audit Quality Center (GAQC) and Public Company Accounting Oversight Board (PCAOB).
By consistently delivering proactive, thorough and efficient service, PKF O'Connor Davies has built long-lasting, valuable relationships with its clients. Partners are closely involved in the day-to-day management of engagements, ensuring a high degree of client service and cost effectiveness. The Firm's seasoned professional staff members employ a team approach to all engagements to provide clients with the utmost quality and timely services aimed at helping them succeed. Continuity of staffing and attention to detail in all client engagements make the Firm stand out among its competitors.
PKF O'Connor Davies is the lead North American representative of the international association of PKF member firms. PKF International is a network of legally independent member firms providing accounting, tax, and business advisory services in over 400 locations in 150 countries around the world. With its tradition, experience and focus on the future, PKF O'Connor Davies is ready to help clients meet today's ever-changing economic conditions and manage the growing complexities of the regulatory environment. For more information, visit http://www.PKFOD.com.
# # #