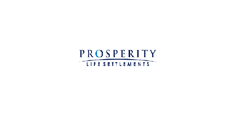 VERO BEACH, Fla. (PRWEB) April 16, 2020
Prosperity life insurance, an online service that allows people to sell their life insurance policy for cash, allows customers and visitors to evaluate the worth of their life insurance policy with a free tool on their website.
This value is called Life Settlement and can serve as an important asset for retired individuals once they reach a certain age by helping them fund different financial needs. These needs can include but are not limited to retirement plans, medical emergencies that insurance does not cover, long-term care, and several other plans.
Agents at Prosperity Life Settlements are known for their expertise in dealing with life settlements and making sure that their clients are able to lead a comfortable retired life. They are able to do this by getting the highest possible price for each life insurance policy. Their long list of successful clients has won them a solid reputation in the life settlement industry.
While speaking about their services, a spokesperson recently commented in a conference, "If you have a life insurance policy, it serves as your own personal property, like a house or a car you know? It's an asset. At a time of financial need, you can have it evaluated for being able to be sold and possibly sell it for a good amount of cash to fulfill your needs. Even if you don't need the cash immediately, it's a good idea to sell it and take advantage of the benefits, instead of having to pay for the heavy premiums every month.
If you want an estimate of how much your life insurance policy could be worth, use our free estimator to calculate. Its available on our website and we are sure the amount will convince you to consider the idea of selling it. "
The company brings to the table over 20 years of experience in the life settlement industry and their agents come from a background of already having processed billions of dollars in transactions.
"We know that our clients look up to us and trust us to make the right decisions for them. They hand us their lives! At Prosperity Life Settlement, we aim to push as hard as we can to get our clients the deals that they deserve, the life they have worked hard all these years for," A representative from the company added.
The company prides itself on successfully having helped a large number of clients lead comfortable retired lives and plan to add more to the growing list in the coming years.
About The Company
Prosperity Life Settlements is a licensed life settlement broker that operates on your behalf to get you the highest value by selling your life insurance policy.
Contact:
(800) 591-2551
info@plsettlements.com