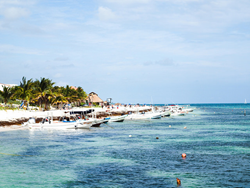 "The minute expats touch down here they see for themselves how pleasant it is and how it is one of the most affordable Caribbean spots."
BALTIMORE (PRWEB) November 27, 2018
Placencia is a charming seaside town found at the tip of a long peninsula off the coast of mainland Belize. It's fast becoming Belize's most desirable location as it fronts the turquoise Caribbean Sea to the east and a resplendent freshwater lagoon, full of wildlife and with a view of the gorgeous Maya mountain chain, to the west.
"A lot of people coming to Belize now are choosing Placencia," says Laura Diffendal, International Living Belize Correspondent. "The minute expats touch down here they see for themselves how pleasant it is and how it is one of the most affordable Caribbean spots.
"It's pretty, with tons of beach, and everything is within walking distance. To top it off, there's a growing expat crowd to welcome you."
Laura and her husband Dave, bought a half-acre beach resort in Placencia Village and moved there from Cleveland, Ohio in 2014.
"I hate winter," Laura says of their decision to leave the States and settle in Belize. "I had been wanting to move south since I was a teenager. The minute we drove down the Placencia Peninsula for the first time, we looked at each other and said, 'This is it!'"
The Diffendals are among a growing number of savvy expats attracted by the charms of the beach town. Only one of three villages on the entire peninsula, Placencia is still largely seen as a vacation spot, but with its relaxed Caribbean lifestyle and vivid beauty, the town is quickly becoming a popular retirement destination as well.
Picturesque Coastline
The peninsula, a narrow finger of sand and small villages in Belize's southern Stann Creek District, is best known for its 16 miles of diverse, walkable beaches. Some are expansive, with clear, coarse golden sand. Others are narrow, bordered by lush coconut palms, distinctive palmetto trees, and fruit-bearing sea grape, coco plum, and craboo trees.
Retirees have the weather here to enjoy these beaches year-round—even in winter, temperatures rarely fall below 70 F, while in summer you can expect days hovering in the mid- to upper-80s F.
But there's much more than beaches near the Placencia Peninsula—just look west to appreciate the silhouette of the Maya Mountains. The rest of the mainland is within easy reach—expats can take a day trip to go zip lining or hiking in the jungle, and to visit a wildlife reserve or a Maya village or ruins.
The peninsula is only a half-mile at its widest point. In some areas you can see the Caribbean Sea to one side, and the lagoon to the other, so it feels like an island. From anywhere on the peninsula you are just a few minutes from the beach and the sea.
Affordable Cost of Living
Though it's a bargain compared to other English-speaking destinations in the Caribbean, Placencia is one of the more expensive places to live in Belize. Its stunning beaches are drawing increasing numbers of expats and investors, and property prices are rising accordingly. That said, a couple can still live well here for $2,500 renting on the beachfront.
"The cost of living is much less than when we lived in Cleveland, and Cleveland is considered inexpensive in the U.S.," says Laura Diffendal. "Belize is not cheap, but it is so easy to transition here, people are willing to pay higher prices especially when you take into account the English-speaking populace. It's very easy to own a beachfront business, when compared to the U.S., and that helps make Belize a popular choice for younger entrepreneurs.
"Also, there is so little materialism that we simply don't buy the things we bought back home. You can enjoy so much for free here that spending money almost seems silly sometimes. I would say it costs about 60% of what we used to spend back in Ohio."
And the wealth of outdoor activities that expats have come to Placencia to enjoy cost very little—walking on the beach, riding bikes, swimming, snorkeling, and kayaking. Enjoying Placencia's laidback ambience is low-cost.
Growing expat community but not overcrowded
The Placencia Peninsula has a population of less than 5,000, and many of these are expats. Residents here are spread out, with concentrated communities at Maya Beach (four miles south from the start of the peninsula road), Seine Bight (two-and-a-half miles south of Maya Beach) and Placencia Village (at the southern tip).
Each of these villages has a strong sense of community. Maya Beach and Placencia Village are where most expats live. Placencia Village is the largest town—with clapboard homes and businesses painted in pinks and blues and yellows—it evokes an ambience that's classically Caribbean. Belizean locals live mostly in Placencia Village and in Seine Bight, a center of the local Garifuna culture.
The region was once an "off-the-radar" destination but Placencia has come a long way. Remnants of this former fishing village are still apparent—keeping the authenticity and natural beauty of the area is important to residents and newcomers alike—but today there's a selection of trendy, sophisticated restaurants, bars, and cafés as well.
The combination of relaxation with adventure makes Placencia a perfect beach paradise.
More information on Placencia, Belize can be found, here: Savor a Laidback Lifestyle in Placencia, Belize.
Editor's Note: Members of the media have permission to republish the article linked above once credit is given to Internationalliving.com
Further information, as well as interviews with expert authors for radio, TV or print, is available on request. Photos are also available.
For information about InternationalLiving.com content republishing, source material or to book an interview with one of our experts, contact PR Managing Editor, Marita Kelly, +001 667 312 3532, mkelly@internationalliving.com
Instagram: https://www.instagram.com/internationalliving/
Twitter: @inliving — https://twitter.com/inliving?lang=en
Facebook: https://www.facebook.com/International.Living/
About International Living
Since 1979, InternationalLiving.com has been the leading authority for anyone looking for global retirement or relocation opportunities. Through its monthly magazine and related e-letters, extensive website, podcasts, online bookstore, and events held around the world, InternationalLiving.com provides information and services to help its readers live better, travel farther, have more fun, save more money, and find better business opportunities when they expand their world beyond their own shores. InternationalLiving.com has more than 200 correspondents traveling the globe, investigating the best opportunities for travel, retirement, real estate, and investment.