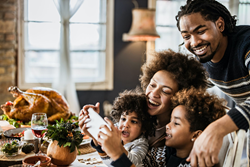 This time of year, it's time to plan for the holidays, ensuring that team members feel valued and appreciated with thoughtful gifts and a personalized 'Thank You'
MADISON, Wis. (PRWEB) November 01, 2021
With the holidays right around the corner, employers of all sizes should be planning for how to show their gratitude to employees. After several difficult years, and retention being of utmost importance, employee appreciation gifts are an essential way to say, "Thank You." gThankYou is here to help.
gThankYou creates custom Certificates of Gratitude(TM) that are given as employee and customer gifts, good for popular and practical food items such as a Thanksgiving turkey, Christmas ham or groceries. The Gift Certificates are redeemable for any brand at major U.S. grocery stores.
"We know the importance of a happy, productive workforce and are passionate about helping companies instill a culture of gratitude," said Liz King, CMO of gThankYou. "This time of year, it's time to plan for the holidays, ensuring that team members feel valued and appreciated with thoughtful gifts and a personalized 'Thank You'."
Nothing says "Thank You" like the gift of a Thanksgiving turkey – it's a uniquely American gift that's an iconic symbol of gratitude. It's meaningful, traditional, and cost-effective. When employees sit down to enjoy their holiday turkey, your company and appreciation will be on their minds. Read 10 Reasons to Give Employees a Turkey for Thanksgiving.
Large and distributed workplaces no longer need to stress about gift-giving logistics. "We help employers of all sizes make the holidays special, yet stress-free, as they provide meals and thanks to the people who make their business work," added King.
All Gift Certificates come with free customizable Enclosure Cards available in dozens of designs, so every gift can have a personalized note of appreciation. Most orders ship same-day.
gThankYou offers a wealth of free resources, including a Celebrating Work Blog, eBooks dedicated to building a better workplace, a popular downloadable turkey cookbook and guide and more.
The company also offers an annual Day-to-Day Employee Appreciation Calendar that can be used to help leaders and managers stay on top of celebrating occasions and maintaining a culture of recognition and fun.
Check out http://www.gthankyou.com, call 888-484-1658 or email info@gthankyou.com to learn more.
About gThankYou
Based in Madison, Wisconsin, gThankYou is the leader in Turkey and Turkey Or Ham Gift Certificates for Thanksgiving and holiday employee gifts. Since 2007, gThankYou works with companies, non-profits and government agencies interested in a convenient way to share meaningful, yet affordable food gifts and incentives. Visit http://www.gthankyou.com, call 888-484-1658 or email info@gthankyou.com.
"Certificates of Gratitude" is a trademark and "gThankYou" is a registered trademark of gThankYou, LLC.