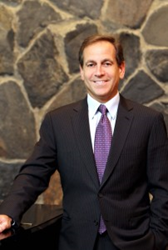 With so many treatment options, no one needs to cope with tennis elbow without relief.
New York, NY and Greenwich, CT (PRWEB) August 24, 2017
With warm temperatures spanning from summer through fall, tennis season is still in full swing – and cases of tennis elbow are becoming more apparent in those affected by this common type of elbow pain, according to orthopaedic surgeon Kevin D. Plancher, MD, founder of Plancher Orthopaedics & Sports Medicine.
The term "tennis elbow" came into use since the condition poses a significant problem for some tennis players, but the truth is that fewer than 5% of tennis elbow diagnoses are actually related to playing the popular racquet sport, according to the American Academy of Orthopaedic Surgeons. Known medically as lateral epicondylitis, tennis elbow disproportionately affects men between ages 30 and 50 and those whose sports or activities require repetitive elbow, wrist and arm movement, including golfers, bowlers, baseball players, house cleaners, painters, carpenters and others.
"The pain from tennis elbow is caused by tearing in the area of muscle and tendon around the bony outer part of the elbow," Dr. Plancher explains. "The tearing can happen slowly or abruptly, but typically feels worse when squeezing objects – like the handle of a tennis racquet – or moving the wrist with force, such as opening a jar or using a tool."
How is tennis elbow diagnosed?
Doctors often suspect tennis elbow as soon as patients describe its hallmark pain or burning symptoms on the outer part of their elbow or their weak grip strength. But several factors are considered when making a formal diagnosis, including the type of work you do and sports you play.
A doctor will often test a patient's ability to straighten the wrist and fingers against resistance, with the arm held fully straight, to determine if this causes pain. "If it does, that's a strong clue those muscles aren't healthy," Dr. Plancher says. "A proper diagnosis is important, since many conditions can cause pain around the elbow."
Additional diagnostic tests may be used to pinpoint tennis elbow. They include:

X-rays, which best illuminate hard structures such as bone and can rule out arthritis in the elbow.
MRI scans, which best highlight soft tissues and can rule out a herniated disc or arthritis in the neck as the cause of refined elbow pain.
EMG (electromyography), which can rule out nerve compression in the nerves traveling to the elbow.
Tennis elbow treatments extensive, varied
In the vast majority of cases, tennis elbow symptoms fade away within a matter of months. But an extensive list of treatments can help cut pain and inflammation in the affected elbow and/or decrease further stress on the joint.
According to Dr. Plancher, a Clinical Professor in Orthopaedics at Albert Einstein College of Medicine in New York, conservative tennis elbow treatments include:

Rest: Avoid any activity that causes pain to the elbow for several weeks.
Ice: Apply ice to the affected area several times each day for 20-minute periods.
NSAIDs: Nonsteroidal anti-inflammatory drugs can lower pain and inflammation.
Steroid injections: Your doctor can inject cortisone into the affected area once if there is a crisis. Topical steroid creams can be administered to the elbow surface.
Splint: Sometimes doctors will prescribe a splint made by an OTR, CHT to stabilize and protect the injured elbow.
Equipment check: Those whose tennis elbow stems from playing a racquet sport may want to check their equipment for proper fit. Racquets that are stiffer or looser-strung can lower stress on the forearm, or a smaller racquet head may help prevent recurring symptoms.
PRP injections: Platelet-rich plasma, which is derived from a patient's own blood, can be injected into the affected elbow area. PRP is a promising newer non-surgical tennis elbow treatment and contains high concentrations of growth factor proteins that can speed healing with or without stem cells.
For chronic cases of tennis elbow that don't respond to conservative treatments – which is unusual (less than 5%) – surgery is an option to repair the elbow's injured muscle and tendon area. Most surgeries, whether open or minimally invasive, involve removing diseased muscle from the elbow and re-attaching healthy muscle to bone. Additionally, a newer surgical technique called the Tenex procedure, percutaneous tenotomy, utilizes new technology and requires only a tiny incision to insert a tissue removal device that breaks down scar tissue inside the elbow using ultrasonic energy.
"With so many treatment options, no one needs to cope with tennis elbow without relief," Dr. Plancher says. "Whether you're a tennis player or not, this condition hopefully won't stop you for long."
Kevin D. Plancher, MD, is a board-certified orthopaedic surgeon and the founder of Plancher Orthopaedics & Sports Medicine.
Plancher Orthopaedics & Sports Medicine is a comprehensive orthopaedics and sports medicine practice with offices in New York City and Greenwich, CT. http://www.plancherortho.com