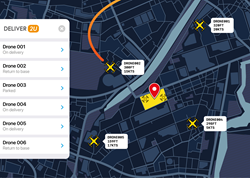 By combining our own design and manufacturing capabilities, software expertise and deep understanding of aircraft surveillance data, we're uniquely positioned to deliver innovative and game changing solutions to the UAV detection and management markets
PORTSMOUTH, U.K. (PRWEB) February 13, 2020
Plane Finder provides solutions for aviators, built by aviators. With more than ten years of ADS-B data to provide intelligence to meet your flight tracking needs, UAVs are now part of the portfolio of tracked aircraft. The UAV Surveillance solution set can meet needs of commercial users such as Air Navigation Service Providers (ANSPs) and enterprise UAV organisations.
Unmanned Aerial Vehicles (UAVs) have had unprecedented growth. In the United States alone, the FAA forecasts that commercial UAV traffic could triple between now and 2023, with an estimated 835,000 enterprise drones flying by that time.(1) Looking at the global forecast for enterprise drones, the figure increases further. In 2020, worldwide shipments of enterprise drones will total 526,000 units, an increase of 50% from 2019, according to Gartner, Inc. Global shipments are forecast to reach 1.3 million units by 2023.(2)
UAV Surveillance enhances the Emerging Market Intelligence portfolio of existing services. Functionality includes Real Time Surveillance (Beyond visual line of sight (BVLOS)), Drone Identification, Historical ADS-B Data, Plane Finder Radar surveillance and customised user displays.
"By combining our own design and manufacturing capabilities, software expertise and deep understanding of aircraft surveillance data, we're uniquely positioned to deliver innovative and game changing solutions to the UAV detection and management markets," said Mark Daniels, Co-Founder and COO, Plane Finder.
The world of enterprise UAVs opens new opportunities for companies to conduct their business substantially saving cost and time. With 86 million aircraft positions reported per day, Plane Finder is your solution to succeed in these new markets.
About Plane Finder
Plane Finder is a trusted source of precision live global flight tracking information. Customised products for aviation, business intelligence and emerging markets. World class apps. If it flies, we can track it! For more information, please visit https://planefinder.net/commercial-services/emerging-markets
(1) https://www.faa.gov/data_research/aviation/aerospace_forecasts/media/FY2019-39_FAA_Aerospace_Forecast.pdf
(2) https://www.gartner.com/en/newsroom/press-releases/2019-12-04-gartner-forecasts-global-iot-enterprise-drone-shipmen