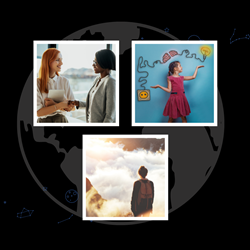 NEW YORK (PRWEB) November 09, 2021
"You fight like a girl!" is the greatest compliment anyone could receive! In the new Planet Classroom podcast, women leaders, creators and activists discuss the numerous hardships faced by strong women everyday. Guests explore the global gender issues and teach us how to be independent, healers, advocates, and strength holders. Planet Classroom's virtual host, Orb, takes us around the world to learn how creative young leaders are finding ways to change the world for girls and women and empower them to be changeleaders.
The need for eco-friendly hygiene products in a world choked with plastic waste is more than ever before. The short student film The Full Stop, featured on the podcast, explores various 'green' products menstruating women can use, while seeking to eradicate any taboo surrounding the subject. "It's important to educate the public on this basic bodily function to promote health, awareness, and more innovations. We still have a long way to come though, because of the societal taboos surrounding the subject. Even advertisements on TV use blue liquid to represent period blood," says Director Saambhavi Subramani. The film Men Helping Women, also featured on the podcast, explores the way male artists abuse their positions of power with young women in lieu of mentorship. "My only hope is that this film sheds light on those issues of injustice and contributes to a future in which that happens less and less," notes Director Isue Shin.
Learn about Planet Classroom
Follow @PlanetClassroom on Twitter
Contact Information:
David Wine
David(at)cmrubinworld(dot)com
ABOUT PLANET CLASSROOM
The Planet Classroom Network, organized by CMRubinWorld, brings together musicians, dancers, video game creators, filmmakers, learning innovators and emerging technologists from around the world to entertain, educate and engage youth, and to provide a rich cultural experience for all. Content showcased for youth and by youth on the Planet Classroom Network is provided by 29 cultural organizations from around the world. Young people globally played a significant role in conceptualizing, creating, and producing the network's vision and programming. Visit the website