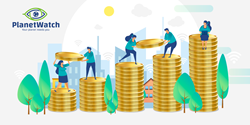 Our ambition is to fill a data gap in air quality monitoring and facilitate the study of correlations between air pollution peaks and potential causes at the local level.
ST. GENIS-POUILLY, France (PRWEB) May 15, 2020
PlanetWatch, a French startup which decentralizes and incentivizes air quality monitoring by leveraging the Algorand blockchain, announced today that it has raised 550k EUR from a mix of private and institutional investors. The round was led by RA.MO.
PlanetWatch will store real-time data gathered from a dense mesh of air quality sensors onto the Algorand blockchain, and subsequently reward contributions to the ecosystem by distributing the PLANET token, a utility token, to sensor owners. Most sensors are installed by individuals inside or outside their homes or carried with them on the go, with additional sensors installed by PlanetWatch in partnership with transport and telecommunications companies, local authorities, etc.
With the World Bank citing air pollution as the fourth largest health risk in the world, and preliminary studies indicating that long-term exposure to high air pollution levels increases COVID-19 death rates, responsible air quality monitoring is a global challenge for governments, regulators, and citizens.
PlanetWatch's high-density network aims to tackle the problem of undetected local air pollution peaks occurring e.g. in urban canyons, where dangerous pollution levels may be reached relatively close to governmental sensors reporting acceptable air quality. In addition, PlanetWatch data will be instrumental to identify air pollution causes at the local level.
Federico Tomassini, CEO of RA.MO, said: "In this era our ambition is also to be part of Social Impact investments and PlanetWatch represent a combination between Technology Innovation and a model of growing the Environmental awareness among the people. This is a culture we aim to contribute to spread".
"This successful financing round enables us to pursue our unique approach to air quality monitoring, which leverages the engagement of responsible citizens together with a top-class technology portfolio" said Claudio Parrinello, CEO of PlanetWatch. "Our ambition is to fill a data gap in air quality monitoring and facilitate the study of correlations between air pollution peaks and potential causes at the local level. This is needed because today when cities experience high levels of air pollution, mitigation measures are sometimes ineffective. Typically, road traffic restrictions are enforced, but their impact on air quality is often limited as other pollution sources (domestic heating, industrial plants, open fires, etc.) play a role which is hard to assess due to the lack of high-resolution, real-time data."
"PlanetWatch's ability to close a successful round of funding and also deliver a Minimum Viable Product demonstrates the value of their environmental solution on blockchain" said W. Sean Ford, COO of Algorand. "We have been supporting this project from its inception and we look forward to their full launch in the coming months."
PlanetWatch is the first blockchain company to join the spin-off partnership program by CERN, the largest fundamental physics laboratory in the world. They have recently also joined the Eterna Borderless Venture Studio , a combined initiative led by Eterna Capital, Borderless Capital, and Algorand to support projects looking to build applications on the Algorand platform.
PlanetWatch is currently testing its platform and aims for a full launch during the summer.
About PlanetWatch
Planetwatch, is a high-tech startup based in France, less than a mile away from CERN. By leveraging the Algorand blockchain, advanced data acquisition software developed at CERN and high-performance yet affordable air quality sensors, Planetwatch decentralizes, incentivizes and gamifies air quality monitoring. Planetwatch is going to deploy dense, low-cost air quality monitoring networks delivering real-time data and building the first global immutable ledger for historical air quality data. For more information, visit https://www.planetwatch.io.
About RA.MO
RA.MO is an Italian investment and cultural holding company already known for its drawing collection by 900 Italian artists and Belleville -Typee school with its innovative approach at writing teaching and critical thinking.
About Algorand Inc.
Algorand Inc. built the world's first open source, permissionless, pure proof-of-stake blockchain protocol for the next generation of financial products. This blockchain, the Algorand protocol, is the brainchild of Turing Award-winning cryptographer Silvio Micali. A technology company dedicated to removing friction from financial exchange, Algorand Inc. is powering the DeFi evolution by enabling the creation and exchange of value, building new financial tools and services, bringing assets on-chain and providing responsible privacy models. For more information, visit https://www.algorand.com/