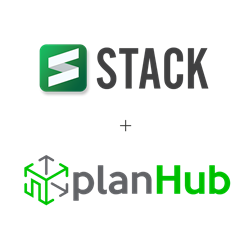 "A contractor who takes advantage of PlanHub and STACK together is already a huge step ahead of the competition." - Phil Ogilby, Founder and CEO of STACK
WEST PALM BEACH, Fla. (PRWEB) August 18, 2020
PlanHub (https://www.planhub.com), the industry's leading web-based open plan room and construction bidding solution, has found success through their joint partnership with STACK Construction Technologies (https://www.stackct.com/), a leading cloud-based construction takeoff and estimating solution. Over the past few months, PlanHub and STACK have united their marketing tactics to raise awareness of one another's software to their customers. Subcontractors can take advantage of the ease and simplicity of PlanHub, combined with the extensive capabilities of STACK, to increase productivity, time efficiency, and revenue.
PlanHub is a web-based preconstruction data company that presently connects over 300,000 subcontractors, suppliers and general contractors. Subcontractors or suppliers are able to download plans and submit bids to one or more general contractors on a project, thereby establishing and strengthening relationships. STACK directly compliments PlanHub, as part of the pre-construction process. As a comprehensive preconstruction platform, STACK allows users to combine the tasks of takeoffs, estimates, and proposal creation all in a single cloud-based tool – streamlining the process and reducing errors and rework.
The benefits of this joint collaboration include that subcontractors are able to identify the best jobs in PlanHub and then seamlessly transition the plans to STACK. Users can then perform fast, accurate takeoffs, create detailed estimates, and generate professional, branded proposals. Subcontractors can upload their bid-ready proposal to PlanHub and submit their bids.
"STACK Construction Technologies has continued to be the leading estimating solution for PlanHub users by constantly expanding their software capabilities to appeal General Contractors and Subcontractors in any trade to an even broader market," says Kyle Conlan, Co-Founder of PlanHub. "That was the initial attraction to them when we first established a partnership and it continues to get stronger every day."
"We're especially pleased to partner with PlanHub because they're helping our customers to establish those important relationships and build their businesses," says Phil Ogilby, Founder and CEO of STACK. "A contractor who takes advantage of PlanHub and STACK together is already a huge step ahead of the competition."
STACK
STACK Construction Technologies is the industry's leading cloud-based software solution for preconstruction professionals. It provides a centralized hub where plans, specs and other construction documents can be stored, evaluated, measured and shared with internal and external project stakeholders. Founded and headquartered in Cincinnati, OH, STACK delivers intuitive and innovative software for thousands of subcontractors, general contractors, suppliers and manufacturers to ultimately improve the project's outcome and profitability. STACK's solution powers seamless plan and document management, real-time team collaboration and a more efficient digital takeoff and estimating process. For more information or to see how STACK software is helping preconstruction teams to gain visibility, insight and alignment throughout the bid process, visit http://www.stackct.com.
PlanHub
PlanHub is a top-rated cloud-based construction plan room and bidding software. Built for tradesmen in mind, PlanHub is designed around the user workflow to help boost productivity, maintain deadlines, increase revenue, and build relationships for both general contractors, subcontractors and suppliers. Easily post projects or submit bids with anytime-anywhere collaboration for every commercial construction trade. To efficiently tackle your next project and stay connected, go to https://www.planhub.com.