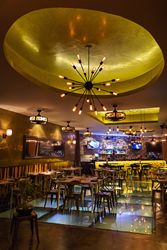 Playa del Carmen, Mexico (PRWEB) May 13, 2014
Plank Playa del Carmen is spicing up the Playa del Carmen restaurant scene, featuring an upscale and trendy New York City style appeal with a unique flare that won't be found at any other restaurant in the region.
Aside from offering a shining upbeat atmosphere, Plank's true success is inspired by an untraditional style of cooking using Himalayan salt blocks or real wooden planks of cherry, alder or cedar woods to infuse natural flavor into each and every bite!
Foods cooked directly on Himalayan salt blocks are lightly kissed with a delicate touch of salt, eliminating the need for any additional additives to create flavor. Try the outstanding Himalayan Style Jumbo Grilled Shrimp or Himalayan Seared Scallops wrapped in Bacon, cooked and served directly on beautiful light pink Himalayan salt stones that arrive still hot to your table.
Entrees cooked directly on real wooden planks are slow cooked and smoked to perfection using beautiful blends of cherry alder or cedar woods. The food is first grilled directly on the wood and then sent to the oven to bake at the perfect temperature to create an outburst of natural flavor infusion. Plank's Filet Mignon and Signature Beef Wellington are among some of the best loved dishes using this delicate cooking technique.
Plank Playa del Carmen features an exceptional menu featuring only the finest quality ingredients, USDA certified meats, Prime Seafood selections, home-style comfort foods, as well as a variety of uniquely inspired artisan flatbreads and family style side dishes! Plank's family style restaurant concept features large, shareable selections which will always leave you full and happy!
But food isn't the only thing smoking at Plank restaurant in Playa del Carmen! If you want to be bold you must experience one of Plank's signature smoke infused cocktails using the same natural blends of wood that are used during the cooking process! Incredible! Smoked Dirty Martini, anyone?
Plank restaurant has a spacious open concept design with indoor and outdoor seating, perfectly accommodating for large groups, families, or intimate dining.
Follow all this up with top notch service standards and you have yourself an illuminating experience at Plank Playa del Carmen.
To get the complete experience come and see for yourself at Plank Playa del Carmen, located at the Porto Playa Hotel & Beachclub on 16th street between 1st and 5th avenues in Playa del Carmen, Quintana Roo, Mexico. To make a reservation, view photos or see the menu, simply visit http://www.plank.mx/.
About Plank
Plank is the newest, trendiest upscale family-style restaurant shining lights on the Playa del Carmen restaurant scene! Experience Plank's unique cooking method using Himalayan Salt Blocks and Wooden Planks to naturally infuse outstanding flavor into each and every bite of food. Follow this up with the highest NYC style standards for service and you've got yourself an illuminating experience not to be found anywhere else in Playa del Carmen.