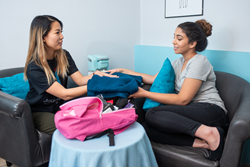 We serve adult survivors and victims of sex trafficking and commercial sexual exploitation with resources and programs that address their specific needs and gender identity
ANAHEIM, Calif. (PRWEB) November 16, 2021
PLANNET is partnering with Los Angeles nonprofit Journey Out to bring optimized technical support to aid the foundation in its efforts in the fight against modern-day sexual slavery.
Journey Out is one of the largest nonprofits based in Los Angeles that helps fight against human trafficking and sexual slavery. Los Angeles is an American epicenter for human trafficking and sexual slavery as identified by the Federal Bureau of Investigation, making Journey Out's work vital to the community.
"We serve adult survivors and victims of sex trafficking and commercial sexual exploitation with resources and programs that address their specific needs and gender identity. No matter where they are on their journey, our clients know that we are there for them. Whether their need is job training, links to legal resources, physical resources, mental health support, rental assistance, clothing, food, education, work assistance, or vocational programming, we have our clients covered. They can come to us during an emergency crisis, with nothing, seeking help to get out or at a later stage when they are trying to rebuild their life. In whatever ways are most honoring to them, we equip our clients with the tools, space, and direction to become their best, most empowered self."
-Nayeli May, Executive Director at Journey Out
PLANNET will be providing managed services to help support Journey Out's technical endeavors. PLANNET's managed services include:

Desktop Support (Windows & Mac)
Microsoft 360
Email
Collaboration
Cloud Computing
Virtualization
Cybersecurity
Disaster Recovery
Switches
Servers
Backup
Telephony
"PLANNET is proud to be assisting Journey Out. As their technology partner, we will assist with all technology-related matters, so that the foundation can focus on its core mission."
-Andrew Harrod, President and Managing Principal
###
PLANNET is an independent professional services firm that provides objective advisory, design, project management, and implementation services to private and public-sector organizations. PLANNET's diverse, rapidly growing client list includes global, Fortune, and middle-market companies and institutions across the United States and abroad. The firm's experienced and highly skilled team of technologists, engineers and project managers support a wide variety of clients with engagements ranging from IT infrastructure and enterprise systems to workplace technologies and all aspects of critical facilities. Founded in 2001, PLANNET is headquartered in Anaheim, California.
Journey Out is a Los Angeles-based nonprofit leading the fight for the freedom and survival of all those whose lives have been destroyed by sex trafficking or commercial sexual exploitation. Journey Out's mission is to help victims of commercial sexual exploitation and sex trafficking leave a life of abuse and violence, overcome their fears, and empower them to reach their full potential and achieve their goals.