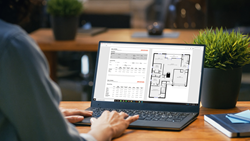 "Single-Family Rental Owners and Operators need accurate information to make strategic decisions about their portfolios. Our best-in-class solution now makes that possible," says Kori Covrigaru, CEO, PlanOmatic
DENVER (PRWEB) October 08, 2020
As Owners and Operators of Single-Family Rentals (SFR) in the United States try to determine what to do next with the acquisition, renovation, and leasing across their real estate portfolios, PlanOmatic, a Denver-based, full-service partner to the SFR industry, is responding to the needs of the marketplace, with the launch of Property Insights™. The new suite of services, which includes the Property Condition Report, Property Detail Report with a Floor Plan, and 3D Inspection Tour, features rich property data, current photos, and video, enabling stakeholders to practice due diligence and make decisions with speed and accuracy.
"Property Insights™ is debuting at a time when visiting properties in person is not the easiest thing to do. Single-Family Rental Owners and Operators need accurate information to make strategic decisions about their portfolios. Our best-in-class solution now makes that possible," says Kori Covrigaru, CEO, PlanOmatic.
Whether overseeing procurement, operations, or acquisitions, SFR Owners and Operators require an efficient and effective solution from start to finish. Property Insights™ brings together accuracy, national coverage, and speed across the three core services.
Ultimately, Property Insights™ provides a better understanding of the state and condition of SFR properties—making it possible for Owners/Operators to remotely analyze investments, evaluate repairs, estimate the cost of materials, track appliances and utilities through the property's life cycle, among other features.