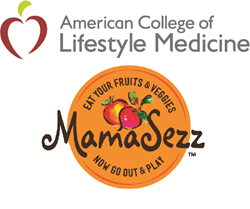 MamaSezz not only provides meals ready to eat, but the tools to cook this way yourself.
ST. LOUIS (PRWEB) September 12, 2018
The American College of Lifestyle Medicine (ACLM) has announced the addition of MamaSezz to its Lifestyle Medicine Corporate Roundtable, a group of individuals and organizations whose collective vision is sustainable human health, a sustainable health care system and a sustainable world.
Founded in New Hampshire in 2016, MamaSezz is a meal service providing fresh, ready-made, fully prepared plant-based meals for delivery anywhere in the US. All MamaSezz deliveries show up in eco-conscious coolers with return shipping labels for recycling. In addition, the company offers support and nutrition education such as cooking demos, plant-based 101 courses, coaching calls and a Two-Week Plant-Based Challenge.
"Our mission at MamaSezz is to heal people and the planet one meal at a time," said Lisa Lorimer, MamaSezz co-founder. "Founded on the principle that good food is integral to health, MamaSezz makes and delivers fresh ready-made whole food plant-based meals. We follow evidence-based research showing whole food plant-based nutrition as key to a healthy lifestyle and we're focused on helping people transition to and maintain a plant-based diet. We add to that a strong history in the organic food industry, a healthy serving of good humor and a commitment from our chefs to bring delicious and healthy food to your table. We are delighted to become a member of ACLM's Corporate Roundtable, to share our common mission of growing the field of Lifestyle Medicine."
"Some people are uncertain how to start a plant-based eating lifestyle," said ACLM President George Guthrie, MD, MPH, FACLM. "MamaSezz not only provides meals ready to eat, but the tools to cook this way yourself. ACLM is pleased to have them in our Corporate Roundtable."
The Corporate Roundtable of the American College of Lifestyle Medicine convenes health care and lifestyle thought leaders, with a keen focus on the power of Lifestyle Medicine to transform health and health care. Roundtable members explore effective Lifestyle Medicine clinical applications, strategies for accelerating reimbursement, and adoption and analysis of potential business-related opportunities. The Roundtable launched in 2015 and has grown to include more than 30 active member organizations.
ABOUT THE AMERICAN COLLEGE OF LIFESTYLE MEDICINE: ACLM is the medical professional society for those dedicated to the advancement and clinical practice of Lifestyle Medicine as the foundation of a transformed and sustainable health care system. Lifestyle Medicine treats, often reverses and prevents chronic disease. It is the combined use of evidence-based lifestyle therapeutic approaches, such as a predominantly whole food, plant-based diet, regular physical activity, adequate sleep, stress management, avoidance of risky substance use and other non-drug modalities.
More than a professional association, ACLM is a galvanized force for change. ACLM addresses the need for quality education and certification, supporting its members in their individual practices and in their collective mission to domestically and globally promote Lifestyle Medicine as the first treatment option, as opposed to a first option of treating symptoms and consequences with expensive, ever increasing quantities of pills and procedures. ACLM members are united in their desire to identify and eradicate the root cause of disease. Learn more at http://www.LifestyleMedicine.org.
ABOUT MAMASEZZ: MamaSezz makes and delivers fresh whole food, plant-based meals, already cooked. Moving to a plant-based diet can change your life and health but not everyone has the time, energy, or know-how to make the transition on their own. We aim to make eating this way not only delicious but an attainable lifestyle. Along with our ready-made meals, we offer support and nutrition education — cooking demos, plant-based 101 courses, coaching calls and our 2-Week Plant-Based Challenge — to give folks the tools they need to eat, look and feel great for a lifetime. See more at https://www.mamasezz.com/