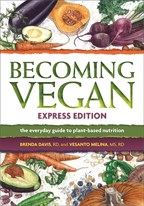 Offers readers a comprehensive overview on the tremendous impact adopting a vegan diet has on personal health and that of the planet.
Summertown, TN (PRWEB) August 28, 2013
Internationally-acclaimed vegan dietitians Brenda Davis and Vesanto Melina have written a masterpiece on plant-based nutrition with Becoming Vegan Express Edition. While awareness of a vegan (meat- and dairy-free) diet has gone mainstream—thanks in part to former president Clinton and numerous celebrities who have jumped on the vegan bandwagon— there is still a lack of understanding on how a vegan diet actually works and why it's important.
Becoming Vegan Express Edition offers readers both the information they need to confidently construct a nutritionally balanced plant-based diet, and a comprehensive overview of the tremendous impact that adopting a vegan diet has on personal health and that of the planet. Individuals' reasons for adopting a vegan diet vary, but most people familiar with the standard American diet are venturing into new territory when attempting the switch.
Davis and Melina are experts in this area with impressive qualifications, which can be viewed at their websites (BrendaDavis Rd and Nutrispeak). They present new evidence of the health benefits of a vegan diet, expanded information on phytonutrients, in-depth coverage of all the essential nutrients—calcium, protein, essential fatty acids, good carbs, and vitamins D and B12—and a thoroughly updated food guide. Fresh insight on the treatment of animals in food production will bolster consumers' compassion for animals and help them make the connection to what is on their plates. Guidelines are presented on how to design a balanced vegan diet for infants, children, pregnant women and nursing mothers, and seniors, as well as on how to maintain a healthy weight. This streamlined "express" version is extensive yet easily understandable and offers lay readers a sound blueprint to follow.
Book Publishing Company has published a series of books by Davis and Melina on plant-based nutrition that together have sold more than 400,000 copies. In 1996 there was Becoming Vegetarian (with Victoria Harrison); Becoming Vegan (2000), The New Becoming Vegetarian (2003), and Becoming Raw (2010) followed. There was so much material written for the revised Becoming Vegan, that a comprehensive edition written for health professionals will be released in 2014.
Becoming Vegan Express Edition presents overwhelming evidence that a plant-based diet is a big step in the direction of good health—for both humankind and the planet we call home.