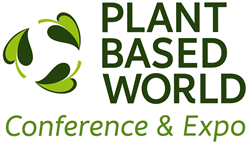 "We're thrilled to be part of the Plant Based World event and for attendees to learn about the exciting innovations in the field that could forever change the food system."
NEW YORK (PRWEB) July 26, 2018
Plant Based World Conference & Expo (PBW) has announced six new members of its Advisory Council, launched a full website and announced registration pricing and information. This inaugural event will take place June 7-8, 2019 at the Jacob K. Javits Convention Center in New York City and is designed to bring the plant-based conversation to the mainstream by creating experiences for business, consumer and healthcare audiences. PBW intends to foster a healthier world by spreading knowledge about all aspects of a plant-based lifestyle. The event will feature an exhibit floor with leading vendors offering innovative plant-based foods, beverages, products, services and brands as well as an extensive educational conference broken into three tracks, keynote speakers and networking opportunities. For more information about the event, visit http://www.plantbasedworldexpo.com.
PBW is being developed for the health and wellness of the global community with guidance from an expert council of advisors within the plant-based industry and beyond. Since the introduction of the event, six new members from a variety of leading organizations who are committed to the plant-based movement have been added, including Eric Adams, Borough President of Brooklyn; Josh Balk, VP Farm Animal Protection, The Humane Society; Michele Simon, Executive Director, Plant Based Foods Association; Stephanie Redcross, Founder & Managing Director, Vegan Mainstream; Matthew de Gruyter, Co-Founder & CEO, Next Level Burger; and Lisa Feria, CEO, Stray Dog Capital. The new members join leaders from The Plantrician Project, Forks Over Knives, PlantPure Nation, Farm Sanctuary, One Green Planet, LiveKindly, HappyCow, Purple Carrot, Vegan Action, The Good Food Institute, Plantricious, 4Leaf, Vegan Bodybuilding and Fitness, VegInvest, and New Crop Capital to form the Advisory Council.
Michele Simon, Executive Director of the Plant Based Foods Association expressed, "Working closely with the top plant-based food companies, I understand the challenges many of these businesses face, especially in the start-up phase. I am happy to support Plant Based World's effort to address these challenges by bringing together experts in the field to educate and inspire, and to showcase the exciting innovation of this fast-growing food sector."
The venture capital community will have a major presence at PBW, actively seeking out opportunities to get involved with plant-based businesses in all stages of development. Lisa Feria, CEO of Stray Dog Capital and Syndicate Leader of the GlassWall Syndicate investment group stated, "I am very excited about the Plant Based World Conference and Expo. At Stray Dog Capital we're always looking for exciting innovation, trends and partners. The PBW team has put together a compelling and diverse slate that would get any Venture Capital investor excited. We're looking forward to learning, growing and investing in some great companies."
The conference and expo will feature two full days of B2B education and networking opportunities. The second day, Saturday, June 8, will be open to the general public as well as trade and healthcare professionals. The conference will have sessions broken into Business, Community and Healthcare tracks.
"Our partnership with the food service industry on shifting to plant-based meals creates healthier consumers, combats climate change, and saves money on ingredient and purchasing cost. It turns out that being better for the planet is also better for the bottom line. We're thrilled to be part of the Plant Based World event and for attendees to learn about the exciting innovations in the field that could forever change the food system," said Josh Balk, Vice President of Farm Animal Protection at the Humane Society of the United States.
Up to date information about Plant Based World Conference & Expo is available at http://www.plantbasedworldexpo.com and registration for the event will open in the coming months. Visit the website to request additional information and to learn when registration is open. PBW will be the first and only professional conference and tradeshow targeting businesses in the mainstream retail and food service space alongside healthcare professionals and community members who are interested in learning more about plant-based products and plant-based lifestyles. To learn more about exhibitor and sponsorship opportunities contact Michelle Bonina, Sales & Business Development Director at 203-416-1924 or Michelle(at)theplantbasedworld.com.
Plant Based World is produced by JD Events, dedicated to the creation of targeted and innovative industry-leading events that deliver results. The company brings together highly qualified buying audiences, education-rich content and high-level networking opportunities -- all geared toward increasing collaboration in the markets it serves. Visit http://www.jdevents.com for more information.