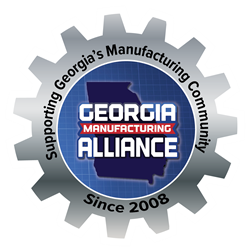 GMA Members see world class manufacturing in action and learn best business practices at plant tours, educational sessions, and networking events across the state.
ATLANTA (PRWEB) January 31, 2019
The Georgia Manufacturing Alliance has become one of the fastest growing industry associations in Georgia due in large part to the amount and variety of events they host across the state. They hosted 120 events in 2018 and their February Calendar includes Plant Tours, A Workforce Development Showcase, and Networking and Social Events.
"Our events allow the manufacturing community to learn best business practices, build strategic alliances, and see world class manufacturing in action," Jason Moss, CEO of the Georgia Manufacturing Alliance. "We have an exciting schedule planned for 2019 that addresses the needs of the manufacturers in our state."
To learn more about these events, visit https://www.georgiamanufacturingalliance.com/events/
Networking Events • February 1 & 5 • Alpharetta, Cobb & Gwinnett
These monthly sessions help GMA service providers and manufacturers connect and expand their referral network. Stay up-to-date with what is happening in the Manufacturing Community and network with other industry professionals.
GMA 11th Anniversary Party & Member Orientation • February 7 • Duluth
Help us celebrate the Georgia Manufacturing Alliance's 11th Anniversary and learn how to best utilize your GMA membership at this fun event that mixes business with pleasure. Enjoy hors d'oeuvres and drinks at The 1818 Club which is the premiere meeting place atop the Gwinnett Chamber of Commerce Building. Attire is business casual for a night of fellowship, food, and new connections to kick off 2019!
UPS SMART Hub Tour • February 14 • Atlanta
Tour participants will see the new 1.2M sq. ft. high-speed processing facility and its ability to reduce time-in-transit and enhance flexibility within UPSs efficient SMART hub-and-spoke network. The Atlanta hub can process approximately 100,000 parcels per hour via a highly orchestrated series of conveyors, chutes, belts and ramps, into waiting trailers for transfer to another UPS location, or into package delivery vehicles.
Lanier Tech Workforce Development Showcase & Kubota Manufacturing Building Tour • February 20 • Gainesville
Learn what is working for Workforce Development in the Hall County area for manufacturers. An expert panel will highlight the resources that are being used to develop skilled talent during this period of low unemployment. Case Studies from large and small businesses will address the issues and solutions and will highlight the small business apprenticeship program that has been developed by Lanier Tech. This panel discussion will be followed by a tour of the NEW Kubota Advanced Manufacturing Building on the Lanier Tech Campus.
YANMAR America Plant Tour • February 28 • Adairsville
Their 500,000 sq. ft. corporate facility in Adairsville focuses on the final assembly for YANMAR tractors and also includes warehousing space used for parts, industrial engines, agriculture and construction equipment sales and service. They employ over 200 associates and their management team will share the behind the scenes processes, their unique history, and some of the emerging technologies for 2019 and beyond.
ABOUT GMA: The Georgia Manufacturing Alliance (GMA) is a membership-based industry organization founded in 2008 to support Georgia's manufacturing community. GMA provides monthly plant tours, educational sessions, tradeshows, and unique networking opportunities designed to help make profitable business connections for its members. The Georgia Manufacturing Directory, Georgia Manufacturing Summit, Georgia Manufacturing Calendar, and Buy From Georgia website are additional resources provided by GMA. To learn more about the organization, membership, and upcoming events, please call 770-338-0051 or visit their website https://www.georgiamanufacturingalliance.com/