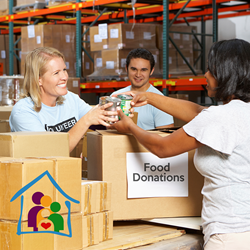 Fighting hunger right here at home has inspired our team to expand our efforts, and we hope the whole community will continue to pitch in.
Plantation, FL (PRWEB) May 16, 2017
Dillon Ruxton Insurance, a full-service insurance and financial planning provider serving the families and businesses of the Fort Lauderdale metro area, has announced the latest beneficiary of their recently launched community involvement program. A groundswell of interest has led the agency to continue the inaugural campaign benefitting LifeNet4Families, a regional nonprofit working tirelessly to help feed families fallen on hard times. From very humble beginnings, the organization has grown dramatically into a seamless system of care which provides food, referrals and other services to over 5,000 people a year – and serves over 1 million hot, nutritious meals. Donations may now be made at https://www.crowdrise.com/fighting-hunger-helping-families-in-florida/fundraiser/aprilruxton.
LifeNet4Families has been working to help those in need in Broward County for over 30 years. While reducing hunger is their primary focus, helping individuals and families regain and maintain stability is also important. Access to showers, haircuts, clothing, counseling, job readiness and emergency financial assistance are just a few of the services additionally provided. Partnerships with local organizations and businesses have allowed the organization to grow dramatically and reduce the pain and suffering of those needing food and resources to improve their lives. Life4NetFamilies is always in need of open hearts, willing hands and open purses.
April Ruxton, principal of Dillon Ruxton Insurance, joined in as a dedicated volunteer on April 26th and led her team in a robust fundraising Rally April 29th. Her passion has also led her to apply for a $1000 grant from Allstate Insurance. "LifeNet4Families is a perfect fit for our new community involvement program," said Ruxton. "Fighting hunger right here at home has inspired our team to expand our efforts, and we hope the whole community will step up to pitch in."
Readers who would like to join Dillon Ruxton Insurance in supporting local families facing unusual challenges need not even reach into their own pockets to do so. The agency itself has pledged to donate $10 to LifeNet4Families for each and every referral they receive for an insurance quote, with no purchase necessary. To recommend family and friends for a no-obligation quotation, simply visit http://dillonruxtoninsurance.com/causes/fighting-hunger-helping-families-florida/.
Meanwhile, the agency's caring team is hard at work promoting the initiative through a dynamic social media and email outreach campaign. They have also featured the cause in their print and electronic magazine, Our Hometown. Helping customers and friends to 'live well and thrive,' the publication is delivered to thousands of households in Plantation and the greater Fort Lauderdale metro area every month. Current and past issues may be enjoyed at http://dillonruxtoninsurance.com/magazines/.
Dillon Ruxton Insurance has demonstrated their devotion to the community by the recent establishment of a master charity program, which is part of the nationally celebrated 'Agents of Change' movement. "We are fully committed to helping those in need in our community, and will be selecting a new group, family or individual to support every two to three months," promised Ruxton. More information on local Community Cause campaigns may be found at http://dillonruxtoninsurance.com/community/.
About Dillon Ruxton Insurance
Serving Florida's families and businesses from offices in Plantation, Dillon Ruxton Insurance is committed to bringing local people an agency which understands their needs. April Ruxton and her team of dedicated professionals have worked with carriers to assemble a variety of products and services to ensure clients' peace of mind. From all the insurance products a typical consumer needs (auto, home, business, boat, ATV, etc.), to developing long-term financial planning strategies, Dillon Ruxton Insurance delivers consistently superior service. Their caring experts may be reached by calling 954-742-0801. For more information on the agency, please visit http://dillonruxtoninsurance.com/.