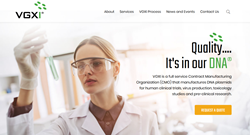 THE WOODLANDS, Texas (PRWEB) May 20, 2019
Texas based CMO VGXI, Inc., which specializes in production of DNA plasmid biopharmaceuticals, announced it has gone live with a refreshed website and online presence. The new site provides a clean, modern look and faster, more responsive experience. In addition, updated content throughout provides expanded information on VGXI's company history, core values, leadership team, manufacturing process, and production capabilities. Visitors are invited to sign up for the company's e-newsletter to stay up to date on future press releases and key announcements.
With over 15 years of experience supplying cGMP plasmid to clients worldwide, VGXI offers a full spectrum of manufacturing and support services. Visit the Events page of the website to find upcoming conferences where you can meet a representative of the VGXI team in person, or submit a Contact Us form to request a detailed proposal tailored to your particular project requirements.
ABOUT VGXI, INC.
VGXI, Inc. has over 15 years of experience and is a leading provider of manufacturing and development services for DNA vaccines and gene therapies. The company has a reputation of success in manufacturing DNA products under cGMP conditions for clinical trials in the US, EU, Asia, Canada, and Australia, and its cGMP and non-GMP products have passed rigorous reviews by several international regulatory agencies. VGXI's ability to work with unique requirements and create custom manufacturing solutions is based on its patented manufacturing process, flexible cGMP production facility, and experienced development team. VGXI, Inc. is a wholly-owned subsidiary CMO of GeneOne Life Science, Inc. To learn more or request a quote, visit http://www.vgxii.com.
ABOUT GENEONE LIFE SCIENCE
GeneOne Life Science Inc. ("GeneOne" KOSPI: 011000) is an international DNA vaccine and product developer and leading contract manufacturer of DNA plasmid-based agents for pre-clinical and clinical trials for global companies and institutions. It researches and develops DNA vaccines and products to prevent and treat incurable diseases in South Korea and internationally. The company is headquartered in Seoul, South Korea. VGXI, Inc., GeneOne's wholly-owned manufacturing subsidiary located in Texas, is the largest pure-play cGMP DNA plasmid manufacturing facility in the world. For more information, visit http://www.genels.com/en.
CAUTIONARY FACTORS THAT MAY AFFECT FUTURE RESULTS
Materials in this press release contain information that includes or is based upon forward-looking statements within the meaning of the Securities Litigation Reform Act of 1995. Forward-looking statements relate to expectations or forecasts of future events. These statements can be identified by the fact that they do not relate strictly to historical or current facts. They include words such as "anticipate," "estimate," "expect," "project," "intend," "plan," "believe," and other words and terms of similar meaning in connection with a discussion of potential future events, circumstances or future operating or financial performance. In particular, these include statements relating to future actions, prospective products or product approvals, future performance or results of current and anticipated products, sales efforts, expenses, the outcome of contingencies such as legal proceedings, and financial results. Any or all of our forward-looking statements here or in other publications may turn out to be incorrect. They can be affected by inaccurate assumptions or by known or unknown risks and uncertainties. Many such factors will be important in determining our actual future results. Consequently, no forward-looking statement can be guaranteed, and forward-looking statements may be adversely affected by factors, including general market conditions, competitive product development, product availability, current and future branded and generic competition, federal and state regulations and legislation, manufacturing issues, timing of the elimination of trade buying, patent positions, litigations and investigations. Our actual results may vary materially, and there are no guarantees about the performance or valuation of GeneOne stock. It is also important to read the disclosure notice contained in many of the individual GeneOne documents available on the website, as many contain important information on such cautionary factors as of the date of the individual document. We undertake no obligation to correct or update any forward-looking statements, whether as a result of new information, future events or otherwise. You are advised, however, to consult any further disclosures we make on related subjects in our reports.